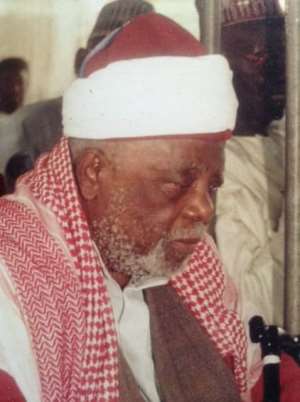 It is always good and advisable to remember our heroes before they depart this earth.. However this is not the case in Ghana and some parts of the world.We always honor our heroes and shower praises on them when they are dead and gone.
The late Bob MARLEY once said that"if you know your history you would know where you are coming from". That is very true indeed.
Major Saleh Sinare the late Chief Imam of the Ghana Army joined the Ghana Armed Forces and rose through the ranks to become a Major and was the 1st Chief Imam of the Ghana Armed Forces.He was also the Director of Counter Intelligence during the First Republic of Ghana under Osagyefo Dr Kwame Nkrumah. He was also the first Notable Ghanaian to study in the Famous Al-Azhar University in Egypt. His wife Souad El-Rouby was also the 1st famous Egyptian lady to set foot in Ghana in the then British Colony called the Gold Coast in 1953.
Major Sinare got married to the Egyptian lady Souad Mohammed known as El-Rouby, a good and devout Muslim and had 8 children with her. Among these children are a famous politician Saeed Sinare, Mariam Sinare, businessmen and women and a leading pilot Captain Nassar Sinare. Although he served as Imam of the Ghana Army he was recognized nationwide as father of all Muslims and non Muslims just as the National Chief Imam. As a Product of the leading Islamic University in Egypt he spent precious times to officially give sermons in Military Mosques accros Ghana. He also paid visits to other Mosques and Muslim communities where marriages were contracted and naming ceremonies organized among many Islamic activities.
Major Sinare whose name became a household name was the brain behind Kwame Nkrumah's Marriage to Fathia the Egyptian lady.He Major Sinare and his wife Souad were made to fly to Cairo-Egypt in search for a wife for Kwame Nkurumah.
How did this all happen, it was very interesting and remarkable.
Kwame Nkrumah paid a visit to Major Sinare at his home in Labone Estates in Accra.On arrival he knocked on the main door to the house many times until Souad,Major Sinare's wife opened the door. Being a typical Egyptian woman with rich Islamic background, she refused to allow any man other than her husband to shake hands with her bare palm and this is what happened on that very day.Kwame Nkrumah stretched his hand to give Mrs Souad Sinare a handshake and to his suprise Souad who by then had a veil over her head used part of the veil to cover her hand before accepting Nkrumah's handshake.Souad did not even allow Nkrumah in her living room without the presence of her husband Major Sinare.
Kwame Nkrumah was shocked and later begged Major Sinare to search for him a wife just like Souad his wife.He told him"my brother,if i get a wife like yours then I'll have proper security"
Major Sinare and Souad left the shores of Ghana to Egypt in search for a wife for Dr Nkrumah and took them good six months until they caught the eye of Fathia who eventually became Nkrumah's wife and the 1st Lady of the first Republic Ghana.
The then Egyptian President,Gamel Abdul Nasser paid the dowry on behalf of Nkrumah and Fathia was flown to Ghana in the company of Major Sinare and his wife Souad. This signified the real move to promote the move to unite Africa and Africans.
Major Sinare once told me,when I brought Fathia I went straight to the Flagstaff House and did the formal introduction,i told the President "Kwame this is your wife Fathia and then looked at Fathia and said to her this is your husband Kwame.I am done"
History can never erase this happening, Major Saleh Sinare shall always be remembered.He died on 5th January 2007, four days after he was 100years old. His wife Souad who felt sad at the loss of her hardworking dear husband is by the grace of Allah still alive, healthy and strong.
Story by Capt Nasser Sinare
Son of Major Saleh Sinare