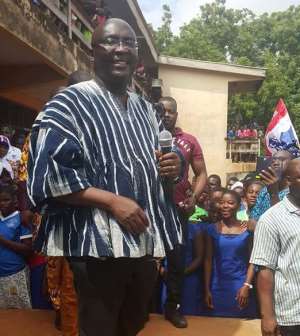 Why "JM, we are sorry"?
The reason advanced by the students of Nalerigu Nurses and Midwifery Training College was that the NPP government lied their way into power. They deceived the students to vote for them. Their campaign promises aren't fulfilled. The allowance they claimed to restore aren't regular. They don't see hope of posting after completion of their course mean while hospitals, clinics and chips compounds built by the JM government are left to rot. Indeed, the students are justified in saying, "JM, we are sorry."
Ladies and Gentlemen of this medium, the simple message I have for you all is that, just compare the JM government and that of the Nana Addo government and tell me which government is tolerant. The pictures you see below are pictures that were taken in Nalerigu Senior High School in the run up to the 2016 general elections. Are political parties allowed to campaign in Senior High Schools? The answer is absolutely a big NO. Continue with the rest of the paragraphs.
Dr. Bawumia and Hajia Alima campaigned in Nalerigu Senior High School and nothing happened to them not even the headmaster and some staff who were NPP supporters were victimized. Today, JM visited Nayiri and students of Nalerigu Nurses and Midwifery Training College decided to apologise to the former president of the Republic of Ghana, John Dramani Mahama about how they were misled in voting him out of power, and now it looked as if hell has broken loose. What crime has the students committed?
I want the good people of this country and that of North East Region to judge for themselves. Is this the kind of governance we need for a developing nation like Ghana? I am highly disappointed in the bad faiths of this government. This government does not need a second term. The second term of NPP government will be suicidal for the people of this country.
We are closely watching activities of this government in the Nalerigu-Gambaga Constituency. We shall resist oppression of this wicked, lamed and useless government. We shall remain resolute and we shall show them that "khaki no be leather". It is unfortunate to be a Ghanaian under this government. The culture of silence is fully defined and back by this super incompetent and clueless government. It is UNFORTUNATE.
We are not afraid of any investigation or what so ever. I was fully part of the organisation of the students of Nalerigu Nurses and Midwifery Training College's participation in the function of the former president and I advise the government to arrest some of us if they so feel that we have done injustice to the constitution of the Republic of Ghana as by law established.
We shall not rest until the right thing is done in Mamprugu.
I call on Nayiri, Naa Bohagu Abdulai Mahami Sheriga II to advise this government to only apply the rule of law and nothing else. Mamprugu is a land of peace. Mamprugu is a land of wisdom. Mamprugu is a land that receives strangers. Mamprugu frowns on injustice. Once again, we are advising the NPP government not to cause confusion in Mamprugu. They should leave the land in peace and not in pieces as they prepare to hand over power to the JM government.
The lawyers of the NDC fraternity are in full gear to use the rule of law to defend the good people of this land.
"JM, we are sorry."
"JM, we are sorry."
"JM, we are sorry."
Atindow Musah
Convener for Defenders of Alhaji Baba Seidu Issifu, parliamentary candidate for Nalerigu-Gambaga Constituency.
0208532470