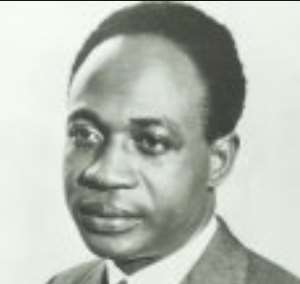 Osagyefo Dr. Kwame Nkrumah
Osagyefo Dr. Kwame Nkrumah explained his vision for Africa in his 1961 book 'I Speak of Freedom'. He said "Divided we are weak; united, Africa could become one of the greatest forces for good in the world. I believe strongly and sincerely that with the deep-rooted wisdom and dignity, the innate respect for human lives, the intense humanity that is our heritage, the African race, united under one federal government, will emerge not as just another world bloc to flaunt its wealth and strength, but as a Great Power whose greatness is indestructible because it is built not on fear, envy, and suspicion, nor won at the expense of others, but founded on hope, trust, friendship and directed to the good of all mankind".
Thirty-three years after the unfortunate overthrow of Dr Kwame Nkrumah in 1966 coup and 27 years after his unfortunate demise, he was voted as the African of the Millennium.
In December 1999, the British Broadcasting Corporation (BBC) conducted polls to select the Greatest African of the 20th Century and Africa's Man of the Millennium (1000 years). BBC listeners voted for Dr Kwame Nkrumah as the Man of the Millennium.
Subsequently in 2010, to mark 50 years of Africa Independence, the BBC African Service again conducted polls to select 50 Most Iconic Figures or Personalities of the African Continent. The 50 included 13 former Heads of State, 2 serving Heads of State, 12 Musicians and Models, 6 Writers, 8 Political Leaders and Activists and 7 Footballers and Athletes.
Three Ghanaians were among the 50 Most Iconic Figures or Personalities namely: Osagyefo Dr Kwame
Nkrumah, ex-President JJ Rawlings, and Mr. Kofi Annan.
Dr Kwame Nkrumah is an African legend and icon not just in Ghana.
The desperate moves by Nana Akufo Addo to adulterate Ghana's history in order to immortalize and eulogize his ancestors must be stopped immediately.
Any attempt by President Akufo Addo to obliterate Ghana's history in favour of JB Danquah et. al., will not be tolerated or entertained by discerning Ghanaians.
What Nana Akufo Addo is doing can be likened to someone who is angry and then decides to kick 🦵 a rock with his barefoot in an attempt to assuage his anger!
I am very happy that the National Democratic Congress through its Deputy General Secretary Mr Peter Boamah Otokunor has served notice that in 2021, upon assumption of office by HE President John Dramani Mahama, that the NDC government will take immediate steps to ensure 4th August "founders" Day is scrapped. It's a welcome call which has the support of all well-meaning Ghanaians.
President Akufo Addo must redirect his attention and energy on the bread and butter issues, insecurity in the country, rising public debt stock due to incompetent management of the economy, rising costs of living, ailing NHIS, unprecedented corruption and looting of state resources by his government appointees like PDS, Kelni GVG, etc.
Ghanaians deserve better!
I am a citizen!
Baba Musah