"Pope" Is The Only Hope Of The Organisational Wing Of The NPP Ahafo Region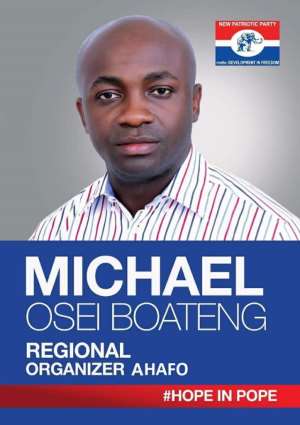 I endorse Michael Osei Boateng popularly known in the political circles as Pope to be the Ahafo Regional Organiser of NPP because of his previous fantastic performance as both the deputy regional youth organizer and regional youth organizer of the Brong Ahafo region, which was hugely expounded during the recent inauguration of the committees of NPP Brong Ahafo regional youth wing.
His organizational skills are exceptional, making it more necessary for him to be given the mandate to man the whole organizational wing of the NPP in the Ahafo region, a part of Ghana's geopolitical structure which is noted of the National Democratic Congress (NDC) using violence as their political machinery and strategies against the New Patriotic Party (NPP) in all electoral contests, a force and strategy of the NDC which can easily be stopped by the only Pope of Ghana politics, Michael Osei Boateng.
So in all humility, and also with the urgency to make the Ahafo region a stronghold of NPP, delegates should please choose Michael Osei Boateng popularly known as Pope to be the Ahafo Regional Organiser of NPP.
There is indeed Hope in Pope!
Hhhmmm, may God be praised always
Nana Kwadwo Akwaa