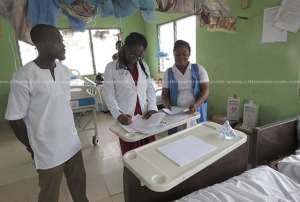 Healthcare refers to the maintenance and improvement of health via the prevention, diagnosis, treatment of disease, illness, injury and other physical and mental impairment in people. Healthcare is delivered by healthcare professionals in a healthcare system which is basically the organization of people, institutions and resources that deliver healthcare services to meet the needs of a target population. In Ghana, the government is the majority healthcare provider and provides healthcare delivery services through the Ghana Health Service which oversees healthcare provision through health posts, health centers and clinics, district hospitals, regional hospitals and tertiary hospitals.
Healthcare in Ghana has over the years witnessed great improvements and made giant strides. In precolonial times, infectious diseases accounted for a majority of deaths. In those times traditional village priests and herbalists were the primary caregivers. Beliefs in those periods cited supernatural phenomena as the cause of ailments and stressed on the combination of spiritual and physical remedies. During these times it was very common to see divination being used as a diagnostic tool and healing being carried out via sacrifices of livestock and prescription of medicinal herbs. Fast forward, our healthcare delivery system has undergone a series of metamorphosis through the colonial period where hospitals and other healthcare facilities were established through to independence, the nationalist period, to this period, where improvements are being made every passing day but a lot still remains to be done.
Over the years healthcare has been made accessible to citizens with the highest percentages of these facilities and services located in urban communities. Rural centers have always being underserved and underprivileged with regards to most of these facilities. With little or no facilities to render quality healthcare to them people in rural areas are forced to resort to traditional medicine or travel long distances to gain access to these facilities. In 2010, Ghana spent 5.2% of its GDP on health and a majority of Ghanaians had access to primary healthcare. Ghana's universal healthcare was then described by Bill Gates as one of the best on the continent. Ghana's health service is financed by the government through financial credits, internally generated funds and Donor's Pooled Health Funds. Some health facilities6 are also run by Christian Health Services Association of Ghana. Some for-profit clinics also provide services which amount to less than 2% of healthcare services.
Despite all these and other health indicators which keep improving as we grow and develop as a nation, current portrayal of our health services by the media sends shivers down the spine of whoever comes across these horrendous stories. There have been stories of people dying as a result of negligence and the sorry nature of medical infrastructure. Ghana is currently bedeviled by human resource and infrastructural deficits. Our doctor to patient ratio which is currently pegged at 1 doctor to 10,450 patients is a major source of worry. Besides, our hospitals are usually lacking in the resources and infrastructure to make them worthy of effectively functioning as hospitals to save and improve human life and health. It is shocking to know that the country's ambulance service cannot boast of having even a 50 vehicles to even think of aircraft for attending to emergency situations. Statistics show that food delivery service in Ghana is thrice faster than our non-existent emergency services.
All in all, the future of the healthcare service delivery industry in Ghana is not bleak as the media may portray it to be. Although a lot of political rhetoric is exchanged whenever these issues are raised, current developments show improvements are being made. What we need to do as a nation is to allocate our resources into strategic areas in beefing up our health services. The government contracted Zipline, a drone company to deliver emergency supplies when the need arises. This development was a major source of heated debate. People complained of the project being a white elephant and argued the money was better off being used in setting up more health facilities. Even though opinions vary and those who put forward these arguments had candid opinions and reasons for arguing so, I believe we cannot do it all at once as a nation. Our healthcare delivery system can be improved by taking few steps in the right direction every day. This includes investing into training medical personnel, setting up health facilities with modern infrastructure and maintaining and improving upon old infrastructure, working on improving our emergency services and making our health insurance better and more effective. By doing these in a well-planned manner we will slowly improve, become better and be able to offer citizens the top-notch healthcare they are entitled to.
Sandra Tufuor
Level 200
Bachelor of Science, Physician Assistantship Studies
University of Cape Coast