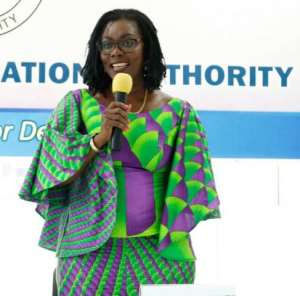 Government has promised to set up a National Cyber Security Authority (NCSA) to oversee the protection of the country's critical national information infrastructure in line with global trends and best practices next year.
The Minister of Communications, Mrs Ursula Owusu-Ekuful said the National Information Technology Agency (NITA) was working with the World Bank to deploy a secured network across government institutions to help improve protection of data in public sector institutions.
Mrs Owusu-Ekuful said this when the Ministry took its turn at the Meet-the-Press series in Accra on Thursday.
The meeting afforded the Minister the opportunity to inform the public about the performance of her Ministry and activities outlined for the ensuing years.
The Communication Minister said the nation was building a digital economy as a means of transformation.
She said an assessment conducted by the World Bank and the Global Cyber Security Capacity Centre of the Oxford University on Ghana's cyber maturity level had shown that the nation had a long way to go in safeguarding her cyber security space.
To counter those potential threats, the Minister said deliberate efforts had been made to establish the National Cyber Security Centre to coordinate activities at governmental and the private sector levels to deal with cyber security threats.
Additionally, the Ministry was collaborating with the Association of Bankers to launch the Cyber and Information Security Directive for the financial industry to support cyber risk management.
Mrs Owusu-Ekuful said Ghana had acceded to two important international treaties: the African Union Convention on Cyber Security and Personal Data Protection (Malabo Convention); and the Convention on Cybercrime (Budapest Convention), which were expected to enhance the country's co-operation with other countries at the policy, technical and operational levels to deal with cybercrime and challenges.
She noted that the Akufo-Addo's Administration was on the right path to digitising the various economic sectors geared towards attaining the Ghana beyond Aid.
'Government is putting in place the requisite technological infrastructure to achieve that vision'.
Mrs Owusu-Ekuful pledged the Ministry's commitment to using ICT and telecommunication to improve the efficiency of service delivery in the country, with particular attention on rural communities.
This would ensure financial inclusion, gender parity and opportunities for the youth, through the nurturing of new businesses, improving efficiency of existing businesses, creation job opportunities, facilitation of ICT-based entrepreneurship and ensuring the attainment of the UN Sustainable Development Goals.
She noted that the country was implementing ICT-based strategies across economic sectors, e-government and the national electronic security system to ensure efficiency in service delivery.
These institutions include the National Information Technology Agency, the Ghana Investment Fund for Electronic Communications and the National Communication Authority. GNA
---GNA