Kumasi To Benefit From Aviation Conference Centre Project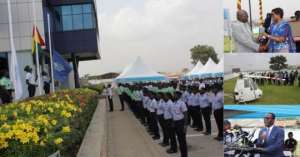 The Ashanti regional capital, Kumasi is to benefit from the construction of an Aviation Conference Centre, an aviation infratructure project.
The construction of the Aviation Conference Centre, when completed will host international Civil Aviation Organisation (ICAO) activities.
Mr. Joseph Adda, the Minister of Aviation, who announced this, said the facility would serve as an alternative to the Accra International Conference Centre and also help to promote conference tourism in the country.
The minister was speaking on Thursday at the 74th ICAO Day celebration in Accra, on the theme: 'Working Together to Ensure No Country is Left Behind'.
The United Nations set aside December 7 as a day dedicated to the aviation sector in recognition of the values and benefits that humanity derives from air transportation across the globe.
Mr Adda said the theme was a call on all and sundry to ensure that the country was not left out in the progress of the aviation industry and all citizens would enjoy the benefits the country would gain.
He said he was in Ethiopia to sign a Memorandum of Understanding with the Ethiopian Airlines to fly the National flag in the aviation space after the collapse of the Ghana Airways and the Ghana International Airways.
He said the country would not only set up a home-based carrier but also make the country the aviation hub of Africa.
'We are on our way to setting up the home-based carrier and we are hopeful that early 2019, the National flag will be flown first in the region and subsequently globally,' he added.
Mr Adda said the steady growth in the passenger throughput count and the additional domestic airlines were both evidence of sound policies of government and the hard working personnel of the sector.
He announced that the airports in Ho and Wa were ready for use and government intends to develop other projects to improve on aviation nationwide.
The Minister assured the public that government's policy initiatives would not leave anyone out.
Justice Sophia Akuffo, the Chief Justice, commended Ghana Civil Aviation Authority for its role in ensuring safe, secured and efficient aviation sector, adding that the country still remained the beacon in aviation excellence.
She said the Judiciary was ready to support the Authority to succeed in the discharge of its mandate in an efficient and effective manner.
A joint statement from ICAO Council and Secretary General of ICAO, read on behalf of Mrs Christine-Klock, commended the country for the immense contribution in providing technical support towards the enhancement of air transportation across the globe.
She urged government to improve upon its local skills to ensure compliance in international aviation standards, which was a challenge in the industry.
---GNA