Siamese Twins-Girls Make Strong Impression After They Left Clinic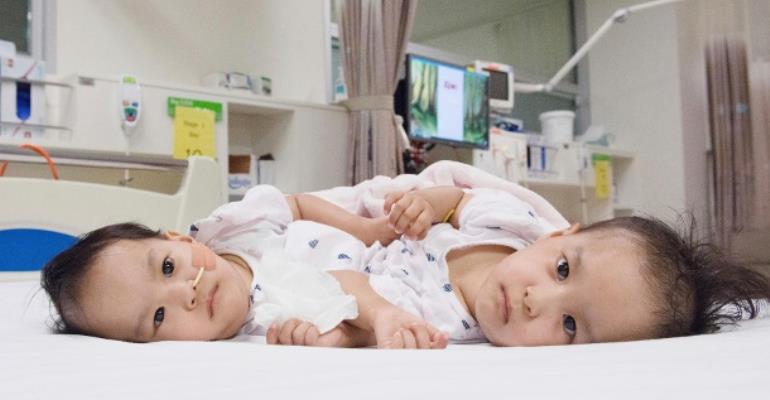 Two and a half weeks after the separation of Siamese twins from Bhutan, the two girls were released from hospital in Australia.
The two separated Siamese twins Nima and Dawa were able to leave the Royal Children's Hospital in Melbourne on Monday. Chief surgeon Joe Crameri expressed his satisfaction with the recovery: the scars healed well, the 15-month-old girls made a "strong" impression and were already "cheeky".
Twins have to learn to sit alone
"It's incredibly rewarding to see how these two girls have recovered and how they interact now," Crameri said. The names, Nima and Dawa meaning "sun and moon", is to enjoy the joy of being young, the joy of the new and the joy of experiencing the world as separate people. Now they can start acting independently and moving independently, and we've seen them gain in confidence and strength over the past few weeks.
The Siamese twins Nima and Dawa after a successful operation, the two girls are now separated and can act independently.
The girls are now to move with their mother to a city north of Melbourne, where the charity Children First Foundation has a facility. The twins now have to learn to sit alone, later to stand alone. When they return to their homeland is not yet clear.
Siamese twins were separated in six-hour surgery
The twins, who had grown together on the trunk, had been separated in Melbourne on 9 November during a six-hour operation. They had come to Australia because there are no doctors in the poor Himalayan kingdom of Bhutan who could have done the surgery. The two girls were first pimped up to be fit for the complicated operation.
As Siamese twins medicine refers to an aberration that develops in the womb at very early stages of development. Some babies only grow superficially, others share organs or limbs. The phenomenon is named after Chang and Eng Bunker, who were born in Siam in 1811, largely today's Thailand and remained together throughout their lives.
Francis Tawiah (Duisburg - Germany)