A Cadre's Open Letter To Mr. Ade Coker And His Likes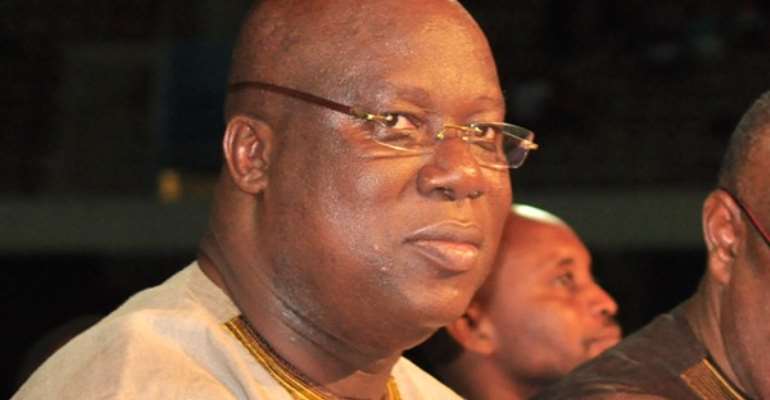 Dear Mr. Ade Coker,
I believe this letter is reaching you and your like-minded colleagues in good health.
This communication is in reaction to a mentality you've formed with regards to the Cadre Corp and especially, the United Cadres' Front of Ghana. It was borne out of the fact that we were rejected by the National Democratic Congress' (NDC's) National Executive Council (NEC) for us to be recaptured in the Constitutional amendment as an integral organ of the Party.
We issued a statement on the development, expressing our disgust at the turn of events. It was on the heels of that statement that you, in the course of a radio interview stated that we are already members of the NDC and there is no need for us to be given a special capture in the Constitution just as is done for other groupings.
You may be thinking the way you do, because you were outside the NDC when it was incubated and hatched. At the time of its formation you chose to be comfortable with the New Patriotic Party (NPP). But may I ask you? The Zongo Caucus and other groupings that have been given space in the structure of the NDC, are they not individual members of the Party before coming together as collective entities?
Your understanding of the reasons for our rejection may be the official position of the NEC which is the power you people wield. We also have our own power which we have religiously refused to use for the past two decades. This time round I am advocating the use of that power to extricate ourselves from the somewhat covenant relationship we have with the NDC. Towards the conclusion of my intercourse with you, I will come back to this segment and expand it. But let me tell you why the Party cannot toy with Cadres – because we are a power base for it.
Prior to the lifting of the ban on partisan politics in Ghana, which led to the mass formation of political parties, the NDC was already in existence without a name. The structural base of the Party was already in place. It was through the instrumentality and activities of cadres who facilitated this to happen. Whereas the other parties which emerged later and was still at the struggling level; the NDC was effectively and firmly on the ground.
This was due to leadership roles cadres played and their presence in all communities and hamlets of this country. Cadres were tasked to compile names of Opinion Leaders throughout the country for follow-up contacts to be made by Party Leadership even before the Party was named. Cadres walked distances in rural communities to get this done. That was the sacrifice members of the Committees for the Defense of the Revolution (CDRs) made to bring forth the National Democratic Congress that people like you, Ade Coker – are feeding on now. And you see us as an aging and dying 'specie' – and for that matter we have no value? Well!
Mr. Ade Coker, I want to make an emphatic statement here – and it is that we can unmake the NDC's winning chances in our electoral processes.
Let me digress a bit and draw your attention to Robert Mugabe and the Veterans of the ZANU-PF party of Zimbabwe. I don't support Mugabe when he wanted to stay on for life in the presidency. He succeeded to be that long in the seat, because he never looked down on the veterans who fought with him in the trenches to win independence. He revered them and they gave him grass-root protection and support.
However, when his young wife begun seeing them otherwise and Mugabe turned his attention from them, he saw his nemesis – and it will happen to the NDC from now on. I told you what we are capable of doing but that I will let you know when concluding. I will however conclude it by addressing my fellow cadres as well.
FELLOW MEMBERS OF THE UNITED CADRES' FRONT
This is an open letter to Mr. Ade Coker, but I think it is opportune for me to continue my advocacy for us to assert ourselves. We have, as I earlier posited, that we have religious intimacy with the Party. But it is high time we rethink this rigid position with the Party.
Since 2016, I have been advocating that we should yank ourselves off and become an independent political entity. I seriously think that we have over subjected ourselves to this wanton humiliation by these 'VULTURES' who have taken over the Party as business men and are interested in what they can get from the NDC.
We have been shabbily treated over the years and we need to spring up and take the 'WEAPON' we have to fight for our independence. What is the weapon?
The NEC, from what we have heard so far is that we are allegedly aging and dying and would soon clear off the terrain of Mother Earth. Let us believe that is the situation.
So, conservatively let us say throughout the country we are left with only 300,000 (we are more than that) cadres. Each of us has at least a wife and a child who follows the husband and father politically wherever he goes. The original figure rises to 900,000. Remember some of us are polygamous and a lot are heads of families and if a fraction of such families will go with the head of family, you can guess the electoral misfortune cadres can cause the NDC with the conservative figures posted in this write-up. Remember? The NPP won the 2016 with a little over a million votes.
The NEC has insulted us – it is time we tell them "enough is enough".
Fellow Comrades, this is my take with Mr. Ade Coker, which I have strayed to address you. The numbers? We have! We must act – and it is NOW!
I have done this in deep pain. This is my advocacy for cadres and I thank you Mr. Ade Coker for 'harassing' me to come out with this piece.
Maano asi.
Camillus Maalneriba-Tia Sakzeesi
0248433700