Agritech Challenge Finalists Awarded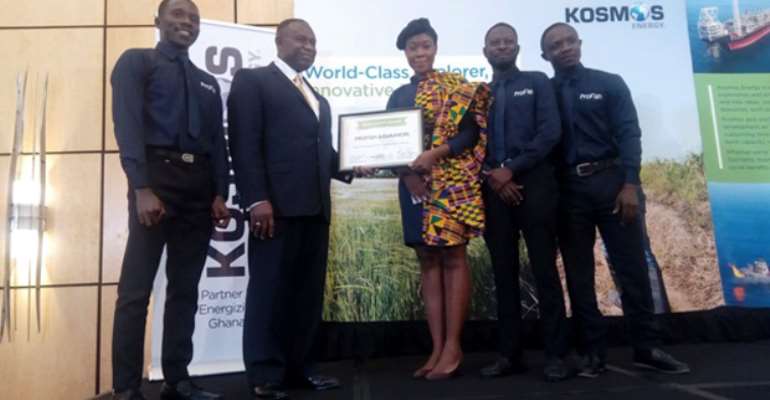 Kosmos Energy Ghana Limited has awarded winners of the 2018 edition of the KOSMOS Innovation Center (KIC) AgricTech Challenge.
The AgricTech Challenge is a business competition introduced in 2016 under which young entrepreneurs are made to use innovation and information communication technology to develop commercial solutions to challenges within Ghana's agriculture sector.
BUSINESS GUIDE gathered that there were about 500 applicants for the AgricTech Challenge, out of which 145 were shortlisted, and a final 120 entrepreneurs were selected to compete.
The eight finalists awarded on Thursday at the Marriot Hotel in Accra, had nine months of customized skills and capacity building, individual coaching and expert mentorship to help develop their innovative ideas.
Accordingly, a series of market research tours were also organized to give participants first-hand knowledge of the challenges faced by the agricultural sector in Ghana.
The teams, the paper learnt, made it through three elimination rounds where they had to pitch their businesses to an expert panel of judges.
Two of the winning teams, TechShelta and Profish, were awarded with $50,000 each as seed funding and a one-year incubation to help ensure their businesses' success.
Three other finalists expected to receive support and funding from the energy company and its partners are Soil Solutions, Kwidex, Growth Factor.
Director of the Kosmos Innovation Center programme, George Sarpong, said the aim of the initiative was to recognize the talents and creativity of the awardees, who are going to make immense contribution to transform agriculture value chain in Ghana."
KOSMOS Energy Ghana Advisory Council Member, Abena Amoah, in a keynote address at the event said, "Without innovating, we cannot leapfrog to the transformation we all desire, and I am proud to say the Kosmos Innovation Center, in only its third year, has shown the massive impact a small group of empowered and entrepreneurial young Ghanaians can make."
Meanwhile, Vice President and Ghana Country Manager of Kosmos Energy, Joe Mensah, in a remark, has expressed his delight about Kosmos' ability "to be driving innovation in Ghana's agricultural sector."
He added that "the size of the opportunity to transform the sector is demonstrated by the ongoing popularity of the AgricTech Challenge with young people and by the scale of support the programme continues to receive from government representatives, business partners and the local community."
He announced that applications to the 2019 KIC AgricTech Challenge would close on November 30, 2018.