KUFUOR -- British Airways and WILLARD HOTEL !!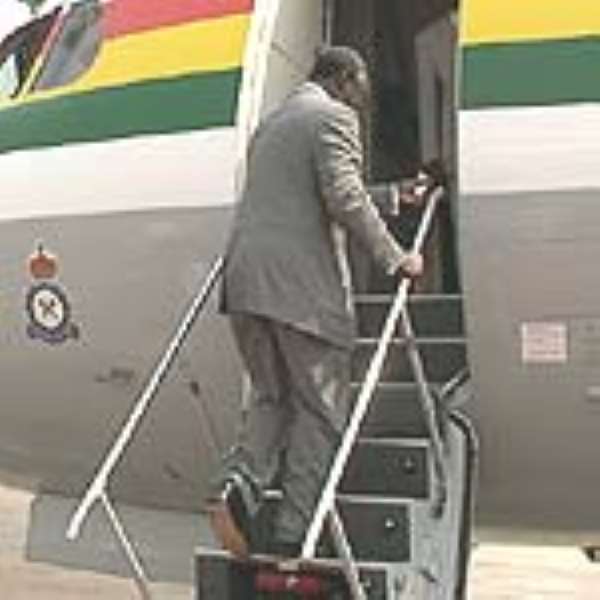 It has come to my notice that the head of state of the Republic of Ghana has made British Airways his choice airlines for his numerous journeys out of the country.
A few days ago, in response to a posting on SIL, I hinted at the possibility of earning AIR MILES under that carrier's FREQUENT FLYER programme serving as the incentive that keeps the President "attached" to BA flights; that he was earning enough in advance for his days in retirement, too.
Under BA's programme for EXECUTIVE club members, the accumulated MILES can be transfered to a friend, partner or family member as a free flight or a highly discounted ticket.
BA has a number of partner airlines, partner hotels and partner car rental companies.
By choosing such a partner hotel you either EARN AIR MILES per day stayed at the hotel or you earn BONUS points for each $ or £ spent at the hotel.
One of BA's partner hotel groups is the INTERCONTINENTAL HOTELS GROUP in which THE WILLARD WASHINGTON DC is incorporated.
http://www.britishairways.com/travel/ecpartnrhotel/public/en_dk
At this URL, please click on the second column attached to Intercontinental Hotels group, under SUB-BRAND. Search around for WILLARD or just go to this:
http://www.ichotelsgroup.com/h/d/ic/1/en/hd/washa
On his way to Ghana (is he there yet?) from Washington, President Kufuor "stopped over" in London and gave a keynote address at a round table conference that was jointly held by the government of Ghana and the Financial Times group at THE LANDMARK HOTEL in LONDON.
Dear SIL, this hotel is also a BRITISH AIRWAYS partner hotel. (britishairways.co.uk)
http://www.ghanaweb.com/GhanaHomePage/NewsArchive/artikel.asp?ID=93405 COMMENT: Did the President "stop over" at THE LANDMARK HOTEL? I do not know. What I know is that there is a connecting thread that holds the President's choice of BA to his choice of hotels (some cheaper hotel alternatives may not be MILES-generating and will likely be avoided).
He is being sponsored by tax-paying Ghanaians while he collects enough AIR MILES to sponsor his future airborne existence and the future and current pleasure trips of his friends and family.
President Kufuor holds in his hands a carefully crafted design to MILK our country to satisfy his compulsions.