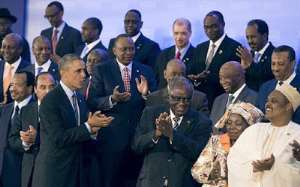 Obama, responsible for Ebola speaks to African leaders: Aids and Ebola are medical crimes,
Desperate people do desperate things but a crime is a crime. Nobody will ever commit a crime and think he or she is free forever. Even after death, the punishment goes to your family or your country in a way that many people don't understand.
It's rather unfortunate that innocent people many times become victims of the government's bad policies and the crime they commit. At times you don't have to pity a mad dog because it will turn round and bite you. You don't need to have pity on people who have no conscience.
The same way, we don't have pity for anyone, organization or country responsible for Aids and Ebola bio-weapons in Africa. Just for publishing the truth that Aids and Ebola were medical crimes against Africa by Europe and America, after 42 years of research, imagine the way micro-surgeon Johan Van Dongen was treated in his own country.
They treated him so bad that eventually, he lost his job as a lecturer at the University of Maastricht. What a crime has he committed to passing through such a painful experience? After this, do those responsible want us to sit down quietly and congratulate them? Not at all. We are not terrorists but the articles we post daily will terrorize them psychologically for the rest of their lives.
Their criminal actions leading them to hack someone's Facebook page is enough evidence that our articles are taking its toll on them. They are confused, scared and restless. We will continue posting articles unabated. Shameless cruel people.
They did it intentionally because they don't value the life of Africans as human beings. The reason there is a statue of someone who killed over ten million Africans in Brussels when there is no statue of Hitler for committing a similar crime.
The recent hacking of the Facebook page of Dutch scientist and micro-surgeon, Johan Van Dongen, is another evidence that Aids and Ebola are medical crimes. The governments responsible are so scared and desperate that they hacked into his account to change all his settings. His fans couldn't even share the articles we posted on the blog 'Secrets Of Aids And Ebola. This is more than a crime.
From crime to crime to crime. This is how it goes because the fight to cover the Aids and Ebola genocide must continue to avoid any confrontation. But as bad or intelligent they think they are, their provoking actions have encouraged us in a such a way that I will not waste a minute in a day to increase my efforts to spread the message across the world.
The law put people who commit crimes behind bars. There is no justice to put them behind bars so they continue to enjoy impunity. We also have no power to put them behind bars but we have the power to write as a journalist and as a scientist to seek the right justice no matter how long it takes and no matter hard they try to hack our Facebook pages and blog.