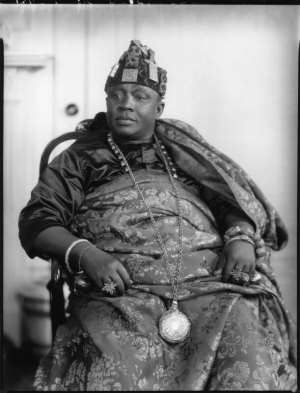 Late Nana Ofori Atta I
To many, leadership is a subject of development. However, when we speak about sustainable development, it is about legacy. A legacy, is likened to a garden where you plant seeds you may never see grow, but still contain the potentialities to grow in a lifetime.
On Thursday 23 August, 2018, the country came alive with a grandeur celebration of Nana Ofori Atta I in the 75th Anniversary of his death. He was a King of the Abuakwa State, a Gold Coast Traditional Nationalist with great accomplishments such as the Atewa forest reserve. Among other tremendous achievement he made are on the educational front with the establishment of schools, secondary schools, Abuakwa State College, compulsory education for stool heirs and Okyeman Scholarship Scheme.
So, if today, his grandson, in the person of Nana Addo Dankwa Akufo-Addo, President of the Republic of Ghana, is replicating an educational policy on the national front with the introduction of the free Senior High School system, one can conclude that it is somewhat a bequeathed legacy not out of political expediency.
Yet, there is a saddened situation with an attempt to ruin the lasting legacy of Nana Ofori Atta I with the decision of government to mine bauxite at Atewa Forest.
WHY GOVERNMENT'S PLAN TO MINE BAUXITE IN ATEWA FOREST WORST DECISION?
The intention of government to mine bauxite in Atewa Forest came as a result of Sinohydro bauxite – infrastructure barter between Ghana and China worth US$ 2 billion.
This is as part of an earlier memorandum between Ghana and China where Ghana is only going to leverage 5% of our country's bauxite resources to the Chinese who are giving us $15 billion over a period.
The Vice-President of Ghana, on his visit to China, to sign the memorandum of agreement of which China will provide funding to the infrastructure project to exploit our bauxite reserve, stated the total bauxite they want to leverage is the 960 million metric tonnes.
So the big questions are: How much is the 5% of the 960 million metric tonnes worth? And is this a responsible and sustainable trade off that a country plagued to achieve Sustainable Development Goal 6 (Water and Sanitation) should support and pursue?
Scenario 1 – 960 Million Tonnes is the Total Reserves for Ghana
Then 5% will be 48% million tonnes of bauxite. Which will give you an aluminum value (1/5 of the projected bauxite value) that will mean 9.6 million metric tonnes.
Export value for a minimum of $15000 per tonne – US$14.4 billion.
Export value for a maximum of $2182.59 per tonne – US$ 21 billion.
Scenario 2 – The 5% of the 960 million metric tonnes (This we can get more from Nyinahin concession alone)
There is an estimated 192 million tonnes of aluminum at Nyinahin.
Export value for a minimum of $1500 a tonne – $ 288 billion.
Export value for a maximum of $2182.59 a tonne – $419 billion.
If Nyinahin alone is giving us the 192 million tonnes of aluminum which will generate close to $400 billion in export value of aluminum, why is government bent on destroying the Atewa Forest which (1) has low-grade bauxite and (2) the forest is the source of water for over 5 million Ghanaians? It is important to note that the export value of aluminum from Atewa is only $79 Billion as compared to the $400 billion from Nyinahin.
The bauxite in Atewa, according to research by A Rocha Ghana, can only be mined for 30 years, meanwhile, the bauxite mining at Nyinahin is over 150 to 300 years. Every country has the right to exploit its resources for development; and as such, Ghana too has the opportunity because we have a lot of reserves.
The estimated impact of the bauxite in Nyinahin, Awaso, and Tabi Offin will not be as significantly damaging as mining in a watershed Atewa that provides water for 5 million Ghanaians.
Bauxite mining is one destructive extractive industry in the world. The upland ecosystem will first be cleared of all vegetation and rock rocks exploded into bits. The streams and rivers will either cease to flow or get contaminated with heavy metals.
Ghana is on a pathway to sustainable development and this requires prudent and judicious use of resources without jeopardizing the ability of the populace to meet daily critical needs like water, health and well-being.
CONCLUSION Mr. President, the legacy of your grandfather, Nana Ofori Atta I which was handed down to us is to face destruction with the decision to mine bauxite in Atewa forest. China has a National Park for pandas which will bolster local economy, according to the Chinese Forestry Ministry. Meanwhile in Ghana, our Lands and Natural Resources Ministry is saying that Atewa Forest which is the source of water for 5 million people and habitat for over 100 endangered International Union of Conservation of Nature (IUCN) Red List species will better serve Ghana as a responsible bauxite mine not a National Park.
During a forum on small scale mining with Traditional Leaders in 2017, you made a profound remark, saying, "as difficult as things have been and we are looking for employment and stuff, there are things that we cannot allow to happen and one of them is the heritage, the inheritance that our fathers and our grandfathers, our great grandfathers bequeath to us. Especially the space; the Ghanaian space which we all occupy. We have a duty to preserve it for those who are coming after us."
Article 58(2) provides you an executive authority to maintain the Constitution and all laws made under or continued in force by this Constitution – for which section 1 of the Mineral and Mining Act vests in you every mineral in its natural state throughout the country in trust for the people of Ghana. We trust that you abide by your words to save our valuable natural resource, Atewa forest, and to keep the legacy of Nana Ofori Atta I alive.
By: Michael Sumaila Nlasia Research Analyst Center for Data Processing and Geo-Spatial Analysis
E-mail: [email protected]