Tunisians protest against 'destructive' reforms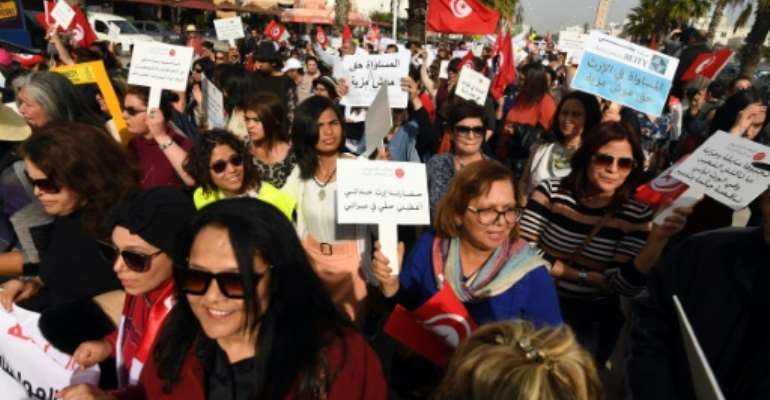 Hundreds of people demonstrated Friday in Tunisia against proposed reforms opposed by conservative Muslims that include equal inheritance rights for women and decriminalising homosexuality.
Responding to a call from religious and civil society groups, more than 1,000 people gathered in the centre of the southeastern coastal city of Sfax to denounce the proposed liberal reforms.
They held up signs saying "These proposals aim at... destroying society" and "No to homosexuality", an AFP correspondent at the scene said.
"We want these proposals to be withdrawn because they undermine the principles of Islam and represent a danger to the unity of the family and the state," Mohamed Mednini, an imam who took part in the protest, said.
The demonstrators marched under heavy police guard in the centre of Sfax to the local government headquarters, chanting "Tunisia is a Muslim state" and "No to the destruction of society".
A commission set up by Tunisian President Beji Caid Essebsi to bring the legal code in line with the 2014 constitution adopted after the Arab Spring uprising, unveiled in June a raft of proposed liberal reforms.
The proposals have been rejected by a coalition of religious groups which has called on the government to scrap the reforms described by one cleric as "intellectual terrorism".
Among the 230 pages of proposals are suggestions to rewrite the current legislation, inspired by Islamic law, that women should inherit only half of what men get.
The commission's preference is to introduce equality between male and female relatives, but leave room for individuals to divide up what they leave behind as they see fit.
The proposals also include decriminalising homosexuality and banning anal tests conducted on men suspected of being gay.
The "total abolition" of the death penalty has been put forward, as have changes to a law forcing widows to wait before remarrying.
The commission insists that the proposals it has put forward are "not contrary to the essence of Islam".
Tunisia is seen as a rare democratic success story of the Arab Spring uprisings, which toppled dictators in several regional countries.
Some of the countries that were rocked by revolts are still mired in chaos or have slipped back into authoritarianism.