Farmers Are Key To Improved Cocoa Yield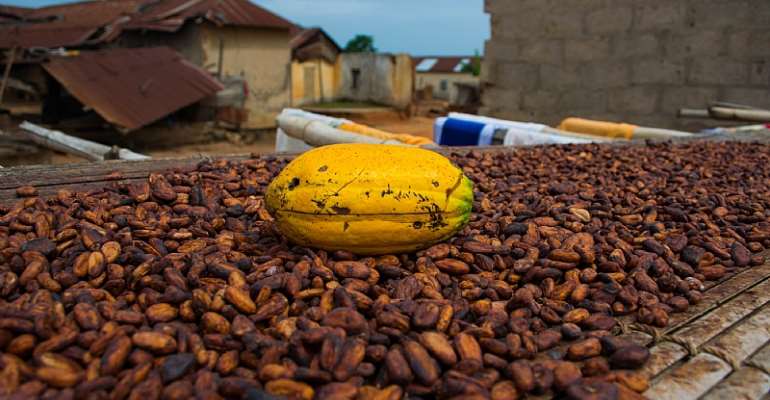 In 2006, as part of the events marking the 60th Anniversary of the establishment of Ghana Cocoa Board (COCOBOD) to regulate the cocoa industry in Ghana, then President John Agyekum Kufuor addressed a grand durbar on cocoa at Sefwi Wiawso in the Western Region, and asked COCOBOD officials to endeavour to reach the magical one million mark of cocoa purchases in Ghana annually, by the year 2010.
Through pragmatic policies like free mass spraying and the availability of fertilisers, that magical feat was achieved amidst rooftop publicity by the then ruling National Democrat Congress (NDC) administration. Like many things Ghanaian, the monumental achievement could not be sustained. Cocoa purchases began to drop by the following year. As you read this piece, this country production of country is around 850,000 metric tonnes per annum.
Another group of administrators, led by Nana Addo Dankwa Akufo-Addo, has come to this same power. The new overlords are asking COCOBOD to try and re-write the script. What would it mean? What this is translating into is a new directive to those in charge of ensuring that the cocoa venture in this country thrives, to work their socks out and ensure that the elusive one million mark is re-visited.
Thank God, COCOBOD appears to be in unison with the new overlords of society on this score. An official announcement from the head office of COCOBOD in Accra, says the cocoa regulatory body is working hard to boost cocoa production to the one million mark, way ahead of the five-year time limit given it.
Dr. Yaw Adu Ampomah, Deputy Chief Executive of COCOBOD, says the board is charting a new course to ensure that the magical figure is achieved earlier than the five-year mandate. He was speaking at a workshop that brought farmers, buyers, fertiliser suppliers, and agronomists together to chart a new course for the cocoa industry.
He said such interactions were necessary to put stake-holders on their guard to ensure that cocoa production receives the necessary boost. The Chronicle is happy that officialdom is keeping a close eye on the cocoa industry, in spite of the oil find, which appears to dominate economic dialogue on Ghana these days.
In the view of The Chronicle, the mantra 'Ghana is cocoa and cocoa is Ghana' is still relevant in spite of all the noise being made about the new oil find. We hope and pray that in putting oil at the centre of our economic development, the planners of the state economy do not abandon the contributions of cocoa and agriculture altogether.
Ghana has always been dependent on cocoa for her development. The education of the mass of our people was achieved through scholarships sponsored with cocoa money. Now oil money is the new brief in Nana Addo Dankwa Akufo-Addo's Free Senior High School funding. We will like to believe that this nation will learn from the calamity that is beginning to befall our eastern neighbouring country, where the oil find has virtually brought cocoa production to its knees.
We are happy to learn that COCOBOD is still insisting on good old processes of keeping cocoa farms health through pruning, application of fertilisers via hand pollination, spraying of farms and irrigation. These methods of sustaining cocoa farms have been farm practices since Tetteh Quarshie, a gold smith from Osu in Accra, returned from an expedition to Fernando Po in modern day Equatorial Guinea, to begin a small experimental farm on the Akwapim Ridge in the 19th Century.
While we are at it, The Chronicle would like to urge the government to find ways and means of sustaining agriculture for it to continue to contribute to the country's economy. Cocoa has bailed this economy out from very sticky conditions over the years. Indications are that cocoa will continue to be the back-bone of this country's economy for time to come. That is why the ordinary farmer should be a major factor in the equation.
Not many Ghanaians are happy with officialdom's inability to increase the producer price given to our cocoa farmers, because of the lower returns from the international market. We would plead with authorities to find ways and means of increasing the producer price, in order to continue to encourage our farmers to break their backs to support this nation's economy.
We make this representation not unaware of the slide in international trade in cocoa. We are of the view that the government could make it possible for our farmers to continue to be happy with what they do. It is only when the farmer is happy that he would improve his yield and help this country to hit the magic one million tonne mark.
Forward with cocoa farmers!