Zimbabwe opposition takes to streets in vote-rigging warning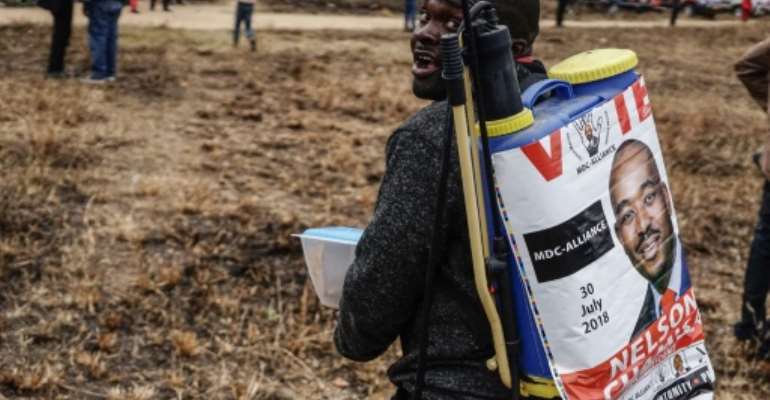 Zimbabwe's main opposition vowed Wednesday to press on with demands for fair elections as thousands took to the streets to petition the electoral commission with a slew of grievances.
The country goes to historic polls - the first without long-time ruler Robert Mugabe - on July 30 to elect a president, legislators and municipal councillors.
Movement for Democratic Change's (MDC) leader Nelson Chamisa, 40, and President Mnangagwa, 75, who replaced Mugabe and is favoured by the military, are the frontrunners in a crowded race of 23 presidential contenders.
"Our agenda is very clear. We do not go into an election which we do not know how it is run. We must agree how this election will be run," Chamisa told several thousand supporters after handing a petition to the Zimbabwe Electoral Commission.
"We will not compromise on the issue of the ballot. This is the last demonstration we are having," Chamisa told the crowd, on their second protest march in a month to the electoral commission. "Next time we will not go back home."
Tendai Biti, former finance minister and an opposition leader working in an electoral alliance against the ruling ZANU PF party said: "We are prepared to die for this cause.
"We are prepared to be imprisoned for this cause. We are tired of having stolen elections."
President Mnangagwa, who took over from ousted long-time ruler Robert Mugabe in November, has promised to deliver free, fair and credible polls.
But the electoral register has long been a contentious feature of Zimbabwe's elections, fuelling accusations of vote rigging in previous polls.
A new voters' roll has been compiled for the upcoming polls, but the MDC has alleged that the list is flawed. It has also called for transparency in the printing of ballot papers.
'Tired of stolen elections'
At least 10,000 MDC supporters sporting the party's red berets, hats, caps and T-shirts with a portrait of its young leader Chamisa, danced to music at the start of the march.
Supporters flashed red cards -- used by football referees to expel players from the field -- and blew whistles as Chamisa handed a petition to electoral commission officials in downtown Harare.
Many carried placards some of which read "no to vote rigging", "no reform, no elections" and "we demand transparency in the printing of ballot papers".
"This is a people's demonstration for a free and fair election. Ours is a just cause," Douglas Mwonzora, the party's secretary general, told protesters.
Outspoken cleric and political activist Evan Mawarire, who was arrested under Mugabe's rule, called on foreign observers to take note of the opposition's concerns, saying the turnout for the protest was a sign that "the election is not clean".
Thirty-year-old unemployed security guard Cosmas Chaparadza, told AFP that "we want electoral reforms for a free and fair election".
"Mnangagwa said he will give us a free and fair election but at the moment, the election will not be free and fair. There are no reforms that have been done," added Chaparadza.
"We want a proper voters roll, a free and fair election. We are tired of ZANU-PF machinations," said Rebecca Amon, 39, a housewife and mother of two.
The 5,6 million-strong electoral list of people eligible to cast ballots is expected to be a major focus for foreign observers deployed to the country in an effort to ensure the vote's credibility.
For the first time in 16 years, Zimbabwe will allow the election to be monitored by Western observers notably from the European Union, the Commonwealth and American pro-democracy groups.
Manipulating the voter roll has been one of the strategies used to fix results in past elections under Mugabe who was forced to resign following a brief military takeover eight months ago.
The electoral commission has refuted opposition allegations.
Commission chair Priscilla Chigumba said members of the public were free to inspect the voters' roll at the commission's offices and raise concerns or make recommendations where necessary.