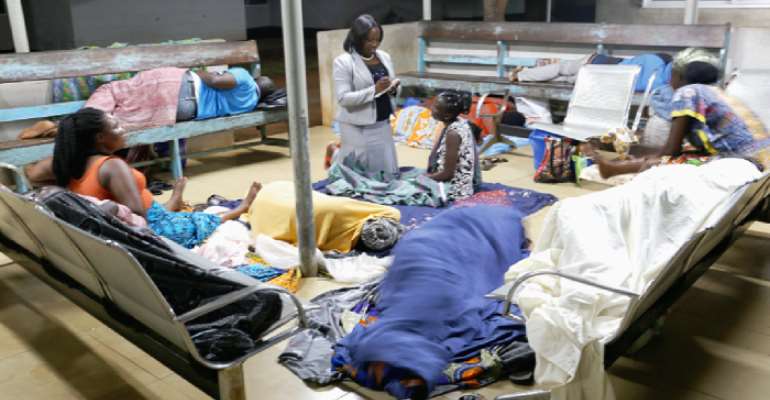 I know for a fact, that over the next few months, the inadequacies, inefficiency, savagery, and whatever about health professionals will eclipse the scandals that have befallen our beloved country. Scandals that have caused the nation billions of tax payer's monies that could have been channeled into making a better health system. These scandals will be forgotten because it did not take a life, neither did it open dead wounds. In fact, the very people at the helm of affairs amidst all these misappropriation of funds, will be the very ones who will call for the heads of health professionals. Why not? Because they are the law makers, and as usual, we are the followers. And as the saying goes, "follow the leader" Majority will side with them, and say enough is enough, bring these professionals to order. Of course, they need to be brought to order, likewise each and everyone in the country whose actions or inactions has in one way contributed to the death of many Ghanaians.
It is sad, and appalling, how life goes by like day and night, and no one cares till one brave person decides to voice his/her experience. They say two things are assured in life; to be born, and to die. Whatever happens in between that, all the better. But of a truth, no one deserves to die, especially to all the departed souls whose demise was as a result of the newly coined "No Bed Syndrome". Truth be told, when it comes to health, there are only two types of citizens; us, and them. And the other truth is, we will suffer the same fate except them. So, make no mistake, being a health professional does not equate to immortality, and we will all suffer the same fate should we have been in the shoes of the late Mr. Anthony Opoku Acheampong, may his soul rest in peace.
Why? Because they have the resources to get treatment wherever they so wish, and we remain oblivious to the fact that we have been taken for granted for far too long. A different story would have been told if Mr. Opoku Acheampong was a vice president, or a minister, or a member of Parliament, whose leader has just called for criminalizing the "No Bed Syndrome". I ask, who is to face the charges? Is it that one who have built fancy edifices that consume power but has no output? Is that that person who has trained a lot of professionals who are unemployed? Is it that person who watches for professionals to work hours without considering their wellbeing? Is that person who finds it difficult to pay professionals than sign unnecessary deals? Is it that person who flies outside to treat a headache? Is that person who is so afraid to get treatment in his own country knowing what a shameful system he has in place? Or is it that person who works 48 hours non-stop only to be told there is no money to pay you? Or that person who is so tired, and reckless, and insensitive, and wicked, and lacks compassion and gives a flimsy excuse of no bed?
Much has been said about how human life is valued in other countries, and how health professionals have made themselves demigods in Ghana. However, much has not been said about how health professionals in Ghana are overworked and with little to no equipment. Much has been said about how a relative died due to negligence but none about how their relative's life was saved. We are so hesitant to say thank you after a successful surgery but too quick to post on social media about all the wrongs that have been done to us. Yes, because this is Ghana, and only God gives life, and to die is a mistake from a health professional. It is depressing but they continue to do their best. It is heartbreaking but they never rest.
I share in the sentiments of other Ghanaians. Some health professionals don't behave as they are supposed to. It is quite sad, but if you bring your mind to the fact that the famous biblical devil was once a heavenly creature, we need to appreciate the good ones we have. If we can vote for them year in year out despite all their inadequacies, we can likewise push them to do that which is right. Imagine a Ghana where all of them must assess health care domestically, they will definitely put in all the resources needed, hire all the professionals needed, and make life enviable in our beloved country. I speak for all Ghanaians, and I speak for myself as well, for I fear when the unimaginable will happen and I will be told there is no bed.
Long Live Ghana, Long Live Us
---Raphael Takyi Brefo