Governor Acquah gets second term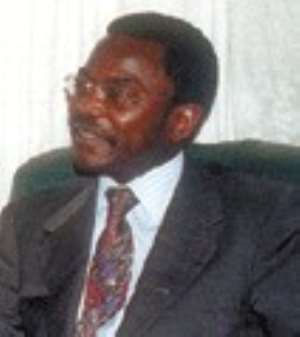 President J A Kufuor has re- nominated Paul Acquah as Bank of Ghana Governor for a second four year term.
The re- nomination ends several months of speculation about a possible successor to the BoG boss.
Before his appointment as the Central Bank Governor in October 2001, Dr Paul Acquah was Deputy Director in the African Department of the International Monetary Fund, exercising responsibility for, and general oversight of the department's operational work on Africa, including policy design. As leader of the Fund's negotiating mission to Africa, Governor Acquah handled several monetary issues involving Cameroun, Congo, Nigeria, Gabon and Zambia. As Deputy Director of the Fund in the African Department, he was responsible for resource management, personnel and administrative matters concerning Africa. His tenure as Governor of the Central Bank saw the extension of credit by deposit money banks to the private sector, which have steadily risen in value since. Total new credit of¢2,584 billion was extended to private institutions, indicating a 24.4 % increase over loan growth during the previous one-year period.
Significantly, the private sector is responding to the new signals with a good deal of enthusiasm from the domestic finance and investment industry.
The volume of loans booked by Ghana's banking industry has been rising steadily, since they shook off the worst of their bad loan troubles incurred during the external sector shocks at the turn of the decade.
Dr Acquah's tenure also witnessed significant success in the lengthening of the average maturity of treasury bills and notes in issue, from 76days as at August 2004 to 174 days by April 2005. This has reduced the turnover on average from five times to 2.1 times in a year and, by implication, cut back on fiscal cost and pressure on funding the Public Sector Borrowing Requirement.
Dr Acquah's first term witnessed a drop in the Central Bank's prime rate from the near 28 per cent before 2001 to the current 16.5 per cent.
Finally, Dr Acquah during his tenure oversaw the recent reduction in the reserve requirement of the Central Bank from 35 per cent to 15 per cent to enable the Commercial banks have more money to lend to the private sector. Dr Acquah earned a BSc (Hons) in Economics at the University of Ghana, Legon, a Master's degree in Economics from the Yale University and a PhD in Economics from the University of Pennsylvania Graduate School of Economics.