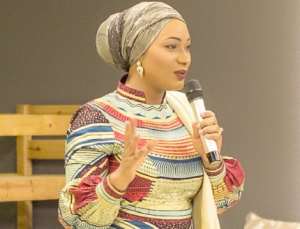 The Second Lady, Mrs Samira Bawumia, has stressed the need to focus on empowering women entrepreneurs to maximise their multiplier effect for Ghana's economic growth and inclusive development.
She said there was the need to focus on the contributions that women make to the acceleration of Ghana's economic development and inclusive growth, especially as studies had shown that investing in women had a multiplier effect on others.
'Women reinvest in their communities, they reinvest in their families, they empower people and that's what we mean when we talk about the multiplier effect,' she stated.
The Second Lady stated at the Women Entrepreneurship Conference, organised by the Ministry of Business Development in Accra on Tuesday, on the theme: 'Unleashing Women Entrepreneurship for Inclusive Growth'.
She said in spite of these positives of empowering women entrepreneurs and the potential they had to spur economic growth, women owned and run businesses, formed the majority of businesses in the small scale, informal sector in Ghana, and in sub-Saharan Africa, in general.
'Women engage in low value added activities that only reap marginal benefits primarily because they are entrepreneurs out of necessity and not of opportunity,' she said.
Mrs Bawumia said women entrepreneurs faced many challenges including difficulties with raising funds and mobilising revenue, which set them back in the pursuit of entrepreneurship and economic empowerment.
She said government was making efforts to address some of the constraints that they faced in the short and medium term.
These include the focus on bridging the gap in girls' education through the free Senior High School programme, the creation of the Ministry of Business Development and the establishment of the National Entrepreneurship and Innovation Plan (NEIP), among others.
She urged female entrepreneurs in Ghana to take advantage of the initiatives to empower themselves and move their businesses forward.
Mr Ibrahim Mohamed Awal, Minister of Business Development said government had allocated GH¢ 10,000.00 through the ministry, to support women entrepreneurs.
The funds and mechanisms for accessing it, he said, will be ready in two months.
He also entreated accomplished women in business to mentor and guide younger female entrepreneurs so that they would achieve more in future.
The conference tackled issues including access to finance, collaboration between academia and industry as well as hand-holding (mentoring) Ghanaian female entrepreneurs.