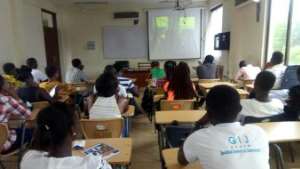 Unlike the others, I like to do personal studies at any time apart from when it is dark which is the evening, night and at dawn. You might wonder why I prefer this method. Sometimes I wonder why almost everyone else fancy learning at night or dawn.
I will end up sleeping most of the time because I get home very tired from a long journey to and from school. Sometime in between lectures when there is no extra-curricular activity going on, I just sneak into the library to enjoy some personal study time. One can conclude that I am not a night owl instead I'm an early bird. I have observed over a long period of time that my peak study time is when I am relaxed. When I am done with all the chores, running of all necessary errands and have nothing doing at all, I get eager and energized to learn. Being idle is actually not something I fancy or entertain.
I have to be always doing something. Unfortunately when I am too full with food, I am unable to study effectively it make me dull and sleepy. I try as much as I can not to take in more than 2000 calories a day. Television is the life of kids; it is the enemy of progress against my personal studies. I get tempted to watch more than necessary when I am supposed to study. I make sure to turn all electronic devices off. I think phones are hard core compelling masters.
Once I hear a beep or a vibration I am compelled to use it. Even when I don't, my mind shifts from the studies and begins to wonder if the vibration was caused by an SMS, a call or a 'whatsapp'message and the reason for it. These gadgets can sometimes use their compelling power to control my life. For personal study periods, I am able to concentrate for as long as three hours continuously but that is not the case during lecture hours. I am unable to concentrate for long periods. I get lost most of the time. It is either I am destructed by an object that dropped on the ground, a late comer who just walks in, a call on the lecturers phone, a vibration from my phone in my bag, the short excitement I hear from other students outside or a word the lecturer will say which will remind me of an interesting event that occurred during the weekend or a movie I watched the previous night.
My concentration in class is mostly not continuous, it is in bits. If it is an interesting subject such as history and technology, I am able to absorb very quickly both in class and during my personal study hours. I don't like to pile up lessons and procrastinate because when lessons bulk up I easily get confused. I do not prefer to study at night because I am mostly tired by that hour, however whenever the need arises I compromise to increase my output considerably.
Writer: Mercy Aba Blankson Ghana Institute of Journalism