Is OECO Turning Ghana into a Plantain Republic?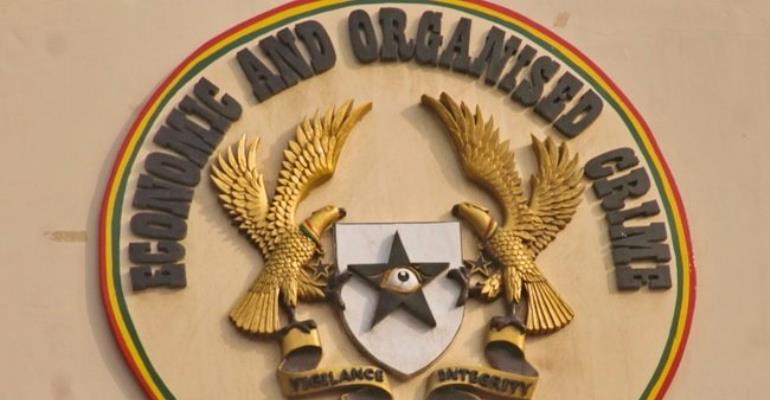 I am sure most people are familiar with the term "banana republic" which was coined in 1901 by the American writer, William Sydney Porter to describe the socio-economic and political system in Honduras and neighbouring countries. Definitely, Ghana cannot be described as a banana republic because she has been under multi-party democracy for the past twenty-five years. However, throughout the Fourth Republic, there have numerous incidents of lawlessness by non-state actors such as party fool soldiers through vigilantism. What is of concern to some, is the level of of lawlessness and unconstitutional acts by some state actors, a typical example of which is the recent actions of the Office of Economic and Organised Crime (OECO) led by the Executive Director, Mr KK Amoah.
According to media reports, the Chairperson of the Electoral Commission (EC), Mrs Charlotte Osei invited EOCO to investigate an alleged missing sum of GHC480,000 from the Staff Endowment Fund. As part of their investigations, Mr KK Amoah wrote to Charlotte Osei directing her to suspend the Deputy Chairperson, Mrs Georgina Opoku Amankwah in July 2017 and that directive was carried out by Charlotte Osei without question for parochial interest because she and Mrs Opoku Amankwah don't get on and she wanted her out by hook or crook.
Under Article 146 of the 1992 Constitution, both Mr Amoah and Charlotte Osei have no power to suspend Mrs Opoku Amankwah. The EC Deputy Chair can only be suspended by the president through a petition and on the advice of a committee set up by the Chief Justice as part of an impeachment process. Mr Amoah as head of OECO should have known that the EC Deputy Chair position is constitutionally protected for which he had no authority to direct the suspension of the post holder. By doing so, he did not only breach Article 146 but also usurped presidential powers.
Mrs Charlotte Osei as a lawyer herself and head of the EC ought to have known that neither she nor EOCO had powers to suspend EC Deputy Chair. For this reason, on receipt of Mr Amoah's directive in July 2017, Charlotte Osei should have advised him accordingly and told him to go to court or if unsure sought legal advice before acting on it. She failed or refused to do either of the two because she was in collusion with OECO to get her two deputies removed, so she acted on it without question.
To add salt to injury, Mr Amoah did not end his unconstitutional act in July 2017, including the grabbing presidential powers with any sanction, he went further to attempt to physically prevent Mrs Opoku Amankwah from resuming work on Monday January 15, 2017 in a fashion reminiscent of the military regimes in Ghana. It beggars belief that in today's Ghana, such unconstitutional acts are taken against the holder of a constitutionally protected position and yet, no one is saying a word against such constitutional aberrations.
So where are the voices of Occupy Ghana, Let My Vote Count, Emile Short, Kweku Baako, Kwesi Pratt, IMANI-Ghana, Ghana Bar Association and many others? Are they waiting till it's election time before they show interest in what happens at the EC? How could the President and the Attorney General and Minister for Justice allow Mr Amoah to usurp presidential powers and act unconstitutionally without calling him to order for over seven months?
Yes, the missing Ghc 480,000 must be investigated and Mrs Opoku Amankwah held accountable but the rule of law must always prevail, whether dealing with individuals, public officials or constitutional bodies. This is not to defend her, in fact, my personal view on the problems at the EC is that neither of the three (Chairperson, Mrs Charlotte Osei and her two Deputies, Mr Sulley Amadu and Mrs Opoku Amankwah) is fit for the positions they currently occupy and must be removed at the end of the ongoing impeachment process.
My reasons are simple. EC is too important to be led by three squabbling children who make very serious allegations against each other. It must be led by matured adults with integrity and are trust worthy. For Charlotte Osei to act on OECO's directive without question by accident but deliberately vindictive. When she was invited to respond to issues raised in a petition against her, she raised a number of legal and constitutional issues. Why did she not do the same when Mr Amoah directed her to suspend Mrs Opoku Amankwah in July 2017? Because she instigated that suspension believing that she would get rid of Mrs Opoku Amankwah but she should remember, what goes up comes down.
Mrs Opoku Amankwah is also not fit to be deputy chair of the EC engaging in open warfare with her colleagues. She is reported to have said that, if she returns to work and her office is locked, she will break into it. Threat of use of force to break into a public office should not come from EC Deputy Chair. It's infantile and that alone makes her unfit for the position. Though her suspension and EOCO actions on January 15, 2017 are unconstitutional, she should go to the Supreme Court to challenge and not use force.
Amadu Sulley is equally guilty of infighting and therefore also not fil for the position of EC Deputy Chair and I expect him not to survive at the end of the impeachment process.
Sadly, if Kennedy Agyapong's claims are true (see, "Young boys at Flagstaff House protecting Charlotte Osei - Kennedy Agyapong alleges", Ghanaweb, January 16, 2017), then Mrs Charlotte Osei may survive for two three main reasons. First, the ruling party, NPP will be guilty of carrying out their threat to remove her as EC Chairperson when in office (as they did in opposition when she was appointed by Mahama). Second, Charlotte Osei has the support of Kweku Baako, who is respected by Ghanaians and his views influence government decisions (both under Mahama and Nana Akufo-Addo) and finally, the main opposition party, NDC is not in favour of any of the three being removed, since they were appointed by their governments.
And Mr KK Amoah? He is also not fit to be Executive Director of EOCO for usurping presidential powers, continuously breaching the constitution for over seven months and his unlawful interference in the work of the EC by preventing Mrs Opoku Amankwah from performing her constitutional duties on January 15, 2018. He is a dinosaur from the military past, a disgrace to constitutional democracy and the presidency. I hope the president will order him to explain his unconstitutional acts, especially, his usurpation of presidential prerogative by suspending EC Deputy Chair. Unfortunately, Mr Amoah will also survive because the president is not even aware that EOCO's actions are unconstitutional, let alone the fact that Mr Amaoh usurped his presidential powers.
In a country where very serious violations of the constitution occurs, one man takes it upon himself to usurp residential powers, interferes in the work of constitutionally protected office holder with impunity in one of the most important constitutional bodies, yet not a single voice is raised. That is what in my view, is a Plantain Republic. All these happening under Nana Akufo-Addo, the rule of law president. What is deafening, is the silence from those who should hold the government accountable.
Kofi Ata, Cambridge, UK