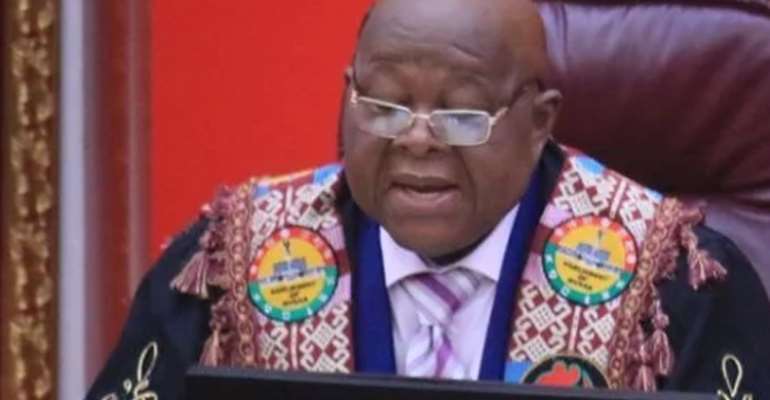 "The war of ideas is a Greek invention. It is one of the most important inventions ever made. Indeed, the possibility of fighting with words and ideas instead of fighting with swords is the very basis of our civilisation, and especially of all its legal and parliamentary institutions". - Karl Popper
"I don't actually subscribe to the view that power corrupts. But absolute power when secured on the back of massive parliamentary majorities, which don't reflect the balance of political opinion in the country, corrupts absolutely". - Charles Kennedy
DO INDULGE ME, AND BE I INDULGED for taking the reader back into time for using words that are old and archaic, and do not bring bread to the table. I do this, because I am a student and teacher of language (s), including English, and sometimes some of the words get regurgitated: they, get expelled from the brain, not the oesophagus, and I would like to share them, because I am kind. Look at 2018 Cometh; 2017 Wendeth. In modern English, it may be rendered as 2018 Comes; 2017 Goes. So, you see the origin of the past tense of 'go' (went); In old English, 'to wend' has the third-person singular simple present as 'wends', (he wends). 'Spake' is the past tense of 'speak', and nothing stops the dear reader from substituting 'spoke' for it: 'speak' is from Old English 'specan': to speak, utter words or hold a discourse with other persons. "And the Lord spake unto Moses, saying, Speak unto Israel that they turn and encamp before Pihahiroth, between Migdol and the sea, over against Baalzephon: before it shall ye encamp by the sea… And the Lord said unto Moses, wherefore criest thou unto me.
25 And it came to pass, that in the morning watch the Lord looked unto the host of the Egyptians through the pillar of fire…… 26. And the Lord said unto Moses, Stretch out thine hand over the sea, that the waters may come again upon the Egyptians". (Exodus 14 King James Version).
The speaker of Parliament, by Article 95 of the Constitution of the Republic of Ghana, 1992, "…shall be elected by the Members of Parliament from among persons who are Members of Parliament or who are qualified to be elected as Members of Parliament". He is expected to carry out his functions moderating debates in a pluralistic parliament, making rulings on procedure, announcing the results of voting et all. He is assisted in the performance of his function by two deputies. Even though the present Speaker is from the NPP, he is expected to be fair to all (other party members) and be unbiased, in his judgements.
In a resolution championed by Alhaji Muntaka and Okudjeto Ablakwa, they chided the Ministry of Trade and Industry for involving itself in the 'sale' of seats to foreign men of industry, during an award ceremony. They requested the speaker to summon an emergency meeting of Parliament last Friday, and the speaker did exactly that.
There was a heated debate. Muntaka prayed the house to set up an ad hoc committee to investigate the matter. Osei Kyei Mensah Bonsu, the Majority Leader, thought the letter addressed to the speaker showed 'a clear case of misrepresentation' where it was stated that the underlisted persons had appended their signature; but the signatures were missing.
But the Speaker upheld the view of the minority, saying that the issues raised were 'procedural irregularities' that could be corrected. The Speaker announced: "We should be careful of the rights provided us so that it does not become a tool for promoting that which is frivolous, vexatious or otherwise an abuse of the process of Parliament, Our good nature cannot be allowed to sink into insecurity and confusion, and that is why I have allowed this to come on notwithstanding the incompetence and irregularities". 'A Daniel come to judgment' as in Shakespeare's 'Merchant of Venice': "A Daniel come to judgment! Yea, a Daniel! O wise young judge, how I do honour thee!"
The Speaker would not 'teach bloody instructions' Macbeth says: "If it were done when 'tis done then 'twere well it was done quickly …But in these cases we still have judgment here, that we but teach bloody instructions, which being taught, return to plague th' inventor
A five-member committee, comprising three NPP members (Ameyaw Kyeremeh, Majority Chief Whip, as the Chairperson, Dr. Assibey Yeboah, The Chairman of the Finance Committee of Parliament Yaw Buabeng Asamoah, MP for Adentan) and two NDC members (James Klutsey Averdzie, Deputy Minority Leader, Dominic Ayine, MP for Bolganta East).
In his inaugural address on 7th January, 2017, Professor Mike Oquaye had announced: "Those who sit in front should please learn to look behind them to allow others to contribute and remember that whereas they cannot normally see from the back of their heads, I have been placed on this platform so that everyone can catch my eye. I intend to be fair to all and, therefore, seek your understanding in advance. There is, however, the need to be guided by high ethical consideration so that we do not relapse into ultra majoritarianism, a symptom of the tyranny of the Majority".
"You and I were not there" when Thomas de Hungerford became the first Speaker in the Parliament of England in 1377, but some of us were there when Honourable Emmanuel Charles Quist (Paa Quist) another fine gentleman like Mike Oquaye from Osu, Accra was running the show as Ghana's first Speaker of Parliament. Having been born before independence, I could recall the song sung in his hour: 'Mmra-nim-foc Quist'.
As an alumnus of Akuafo Hall, the honourable Speaker is enthused about the Motto of Legon Hall "Cui Multum datum est, Multum sperandum", a pick from St. Luke's Gospel Chapter 12:48: "But he that knew not and did not commit things worthy of stripes, shall be beaten with few stripes. For unto whomsoever much is given, of him shall much be required, and to whom men have committed much, of him they will ask the more".
Honourable Mike Oquaye has used his discretion reasonably. In so doing, he has proved, just as Jeremy Corbyn advocates, that "Parliament is supposed to be serious. It's not a place for jingoistic cheering. Last week, I made mention of 'precedent'; most people were expecting the Speaker, Mike Oquaye, to dismiss the minority petition, the same way as the Speaker in NDC controlled Parliament of the old 'regime' dismissed the then minority petition over the alleged gift of a Ford vehicle by the Burkinabe, Djibril Kanazoe, to President Mahama. That would have been the 'precedent' and nothing would have stopped the Speaker from following the 'precedent'. Someone says even if the majority will have their way, the minority must have their say, after all, "…we need to counter-balance and check possible excesses and abuses of the exercise of state authority".
Honourable Speaker, Dr. Kaakyire Frimpong and I are proud to have sat at your feet to be tutored in Political Science at the Masters level, specifically: The Military in Politics. We were taught to be tolerant in our role in governance. We are grateful for the privilege of sharing the privacy of your home in Haatso, and of making rough intrusions into your private library. Edmund says in 'King Lear': "Thou hast spoken right. 'Tis true. The wheel is come full circle"
[email protected]
Africanus Owusu-Ansah