Soaring oil prices threaten Ghana's economy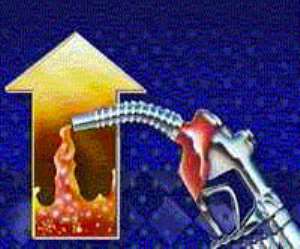 June 2005's inflation data released by the Ghana Statistical Service in July, reverberated earlier declarations by key policy makers of the improving Ghanaian economy.
Headline inflation for the relevant period, declined by the largest (month-on-month) magnitude to date (0.6%), from a level of 16.3% (May 2005) to 15.7% (June 2005).
Albeit representing the third successive decline since attaining a high of 16.7% (March 2005), June 05s y/y figure pales in comparison to June 2004s level of 11.9%.
The combined CPI national number for June 2005 [413.17], represents a monthly increase over May 2005s level (409.31) of 0.9%, and an annual increase over June 2004s level (356.95) of 15.7%.
The food and non-food components of the CPI basket sustained their lowest levels in the second quarter within the period in question, recording increments of 1.5% and 0.3% respectively. Excluding the housing and utilities sub-component (which sustained a monthly increase of 11.1%), the remaining sub-components constituting the non-food section of the CPI sustained monthly increments within the 0.3% - 2.1% band (endrates inclusive).
The heavily weighted food and beverages subcomponent, grew by 1.3% within the month of June 2005. Though accounting for approximately 54% of the total percentage change in CPI components for June 2005, the (month-on-month) growth in the housing and utilities sub-component was hardly visible on the overall level of non-food inflation y/y (15.9%) and on the combined level of headline inflation (15.7%).
This observation confirms the progressive slowdown in the growth rate of the remaining sub-components of the CPI basket, yet raises questions as to the impact a substantial hike in utility tariffs might have on the cost of living index (CPI).
Inflationary outlook
The underlying assumptions from which our earlier forecasts were drawn largely remain unaltered. The likelihood of soaring oil prices on the world market, brings to light the latent danger the country faces in the inefficient prices of our petroleum products.
Though caution must be exercised, it is hoped that further deregulation of the downstream petroleum industry is expeditious so as to make the industry more efficient.
The possible upward revision of utility tariffs later this year, along with our assumption of the effect of adverse elements of the weather continue to remain pertinent in our analysis.
Subsequently, we expect inflation y/y to inch up to 15.8% in August, following a successive decline from June's y/y level of 15.7%, to a projected level of 15.5% in July 2005.
Subsequently, headline inflation will steadily edge downwards to a year-end figure of 14.4% - greater than government's year-end period target (of 13.5%) by approximately 1%. -