Kamal-Deen Abdulai Wishes Delegates Well And Calls For Party Unity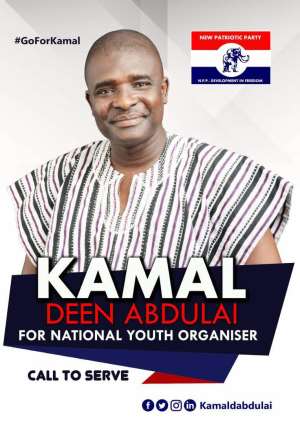 The Nasara Wing of our Great Party the New Patriotic wishes all delegates who shall be travelling from far and near to the extraordinary delegates' conference on Sunday, December 17, 2017 in Kumasi, the Ashanti Regional Capital a safe journey.
This conference which is held in pursuance to Article 9(A)(5) of the NPP constitution has become necessary in order to deliberate, consider and adopt a draft constitutional amendment for the party.
As a political party which believes so much in the rule of law and appreciates the fact that its structures must be built solidly on laws, this meeting is a very crucial one.
We urge all delegates to take a critical look at the amendments proposed by the Constitution review Committee and adopt for ourselves a working constitution that will benefit our party now and in the future.
Whiles wishing delegates well, we use this opportunity to call for absolute unity across the rank and file of the party. It is an undisputed fact that winning election is not as difficult as sustaining power. The very reason why absolute unity and cohesion is needed to sustain the power we have now.
We urge all party members who are seeking to occupy various positions in the party from the polling station, electoral area, constituency, regional and national level to have in mind of seeking first the welfare of the party people.
Wishing all delegates and each and every one travelling from far and near a safe journey.
May the Almighty Allah protect us all.
Long Live the NPP
Long Live Ghana.
…signed…
Kamal-Deen Abdulai
National Nasara Coordinator/NATIONAL YOUTH ORGANISER HOPEFUL