McOttley Becomes 2nd Fastest Growing Company In Ghana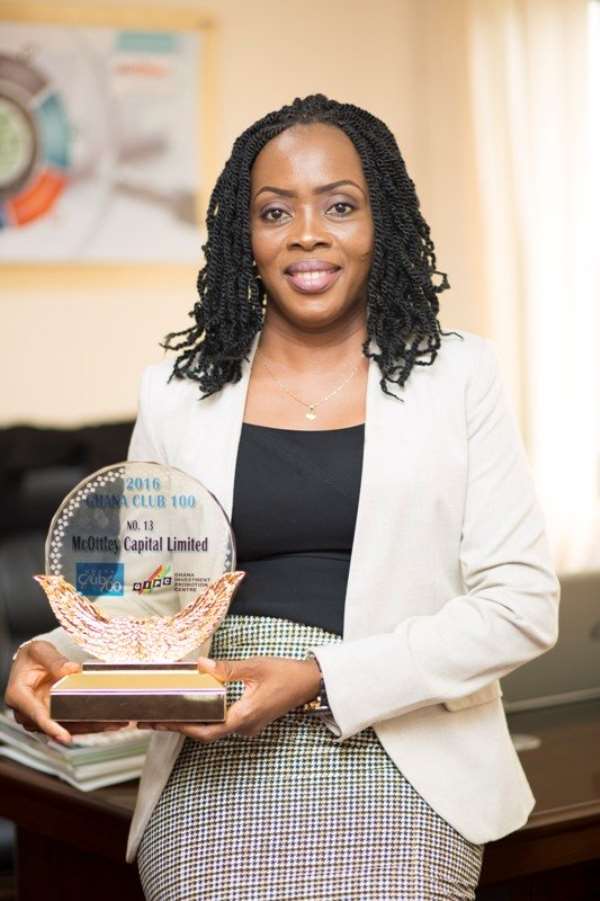 McOttley Capital 's steady strides on the investment banking market has been acknowledged by being adjudged the 'Second Fastest -Growing Company in Ghana for 2016.'
The Award was presented at the 16th Edition of the Ghana Club 100, organised by the Ghana Investment Promotion Centre (GIPC).
In addition to the Award, McOttley Capital was ranked 13th on the league of Ghana's 100 best companies for the year under review.
The Managing Director of McOttley Capital, Mrs. Happy Forson, stated, 'This recognition is as a result of the dedication of the Management and staff of McOttley, as well as the unflinching support of our loyal clients.
'We are very proud of this moment because this is our first ever entry into the Ghana Club 100 list and it shows that we are doing something worth acknowledging. We will continue to provide top-notch services and products relevant to the financial empowerment of the Ghanaian.'
Mr. Yofi Grant, who is the CEO of the GIPC, explained that the prestigious awards would reinforce the healthy competition in Ghana's business sector and motivate businesses to provide and upgrade the quality of services and products to consumers.
McOttley Capital, which is also a member of the Chartered Institute of Marketing Ghana, has received numerous accolades, including the Best Growing New Investment Bank of the Year 2015 and Best Boutique Investment Bank by Capital Finance International.
McOttley Capital, which is a subsidiary of McOttley Holdings Limited, is a multi-dimensional investment-banking firm, licensed and regulated by the Securities and Exchange Commission (SEC), and the National Pension Regulatory Authority (NPRA).
McOttley Capital provides investment advisory services, fund management, venture capital, corporate finance, research and due diligence and private equity to individual, corporate, governmental and institutional clients.
The company is also a member of the Ghana Securities Industry Association (GSIA).