Speech Delivered By Dr Bawumia At Graduation Ceremony Of Course 38 Of GAFCSC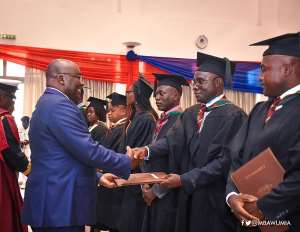 His Excellency Dr. Mahamudu Bawumia Vice President Of The Republic Of Ghana At The Graduation Ceremony Of The Ghana Armed Forces Command And Staff College Course 38 Graduands On Friday, 18 August 2017
Honourable Minister for Defence
Honourable Deputy Minister for Defence
HonourableDeputy Minister for Education
Honourable Members of Parliament
Excellencies, Members of the Diplomatic Corps
The Chief of the Defence Staff
The Inspector General of Police
Service Chiefs
The Deputy Rector, Ghana Institute of Management and Public Administration
Heads of Sister Security Services
Senior Officers both Serving and Retired
Chiefs here present
Members of Staff
Ladies and Gentlemen of the media
Distinguished Guests
Friends from the media
It is indeed anhonour for me to be invited as the Guest of Honour for this important event. I want to thank the Ghana Armed Forces High Command and the Staff College Control Board for this invitation.
Ladies and gentlemen, throughout the world, graduation whatever its level is a special occasion for the graduands. I am happy to be amongst you, to celebrate and to honour you. After all the sacrifices, after all the challenges, you have made it. You must be celebrated because this is your day, fulfilling your personal dream and the dream of many loved ones.
I am reliably informed that the Ghana Armed Forces Command and Staff College has over the years carved out a niche for itself as a Centre of Excellence in Africa, for the training of Middle and Senior Level Officers for Staff, Command and Leadership Roles in their various Armed Forces and Allied Security Institutions.
It is not surprising that vacancies for the senior staff course in particular are oversubscribed by sister African countries. For this year I am informed that 44% of the studentsareAllied students. I commend the Commandant and his staff for the good job they are doing. You make us proud.
Listening to the Commandant's report, I noticed that for the first time and with the assistance of Resource Persons from the Defence Academy of the United Kingdom, and the Defence Section of the British High Commission, the College organized training in counter terrorismfor the students of Course 38.
This I find to be most appropriate and timelyand I wish to commend the Commandant and his staff for taking this bold initiative.
Terrorism in all its forms and manifestations has most often eluded state securityagencies. They target very sensitive areas to cause maximum fear and panic. For the students from countries like Nigeria, Cote d'Ivoire and Mali this was not verynew to you, as your countries have experienced different acts of terrorism.It is my hope that the knowledge you have acquired will go a long way in preparing your various institutions towards the fight against terrorism.
For the Ghanaian officers, you are aware that one of the problems we are facing as a nation is the issue of illegal mining also known as 'galamsey'. Some of you may be needed to assist in this fight. Should you find yourselves involved in this fight, consider it as a national issue and do your best to safeguard the environment.
The President, Nana AddoDankwaAkufo-Addo is committed to ending this destructive impact on our forest, water bodies and agriculture. I therefore urge anybody involved in this fight to be dispassionate in ensuring that this menace is eradicated once and for all. Unless we win this fight, we shall be failing in protecting the environment for posterity. In fact, Government has taken this issue so seriously that the President has put his full commitment into it.
For the civilians who have participated in the Master of Science in Defence and International Politics, you should consider yourselves as ambassadors of this Great Institution. Let the knowledge you have acquired here be manifested in your work places and in your lives.Let the tenets of discipline, loyalty, leadership and time management reflect in whatever you do.
Ladies and Gentlemen, let me express my appreciation to those whose continuous effortshave assisted the College and enabled it to make great strides in its endeavour as a centre of excellence.
The Ghana Institute of Management and Public Administration (GIMPA) has continued to provide guidance andmentorship on your newly acquired status as an accredited tertiary institution. Let me express my appreciation to the Rector and his staff for their tremendous effort in this regard and the good work they are doing.
I want to take this opportunity to congratulate Professor Philip Bondzi-Simpson for his appointment as the new Rector of GIMPA. Iurge you to continue with the good work of this institution, especially in support of the Ghana Armed Forces Command and Staff College.
I would also like to thank the United Kingdom (UK) government for the immense support of the College. I am informed that UK's support to the College has been a major contributing factor to its present status. Let me also acknowledge the support of Stanbic Bank, Tullow Oil Ghana Ltd, Consolidated Discount Holdings (CDH), MASLOC and all the others. For your benevolence, we say thank you.
Oneaspectof the course packagethat the government has taken serious notice is in the area of African Study Tour. Study tours offer students a high level of exposure and it is one of the considerations which countries look at when sending their officers here for training. Government will continue to support the College with its requirements to ensure that the African Study Tour comes off as scheduled every year.
It is now my wish to congratulate all the graduands on their success. Having gone through this rigorous and demanding joint course for the past eleven (11) months, or 18 months as the case may be, I can imagine howrelieved you are that it is all over and you will be joining your families soon.
As the third batchof graduands of the regular programme and the second batch of the week-end programme, you are beneficiaries of a continuously enriched course. We expect that your contribution will be felt wherever you go.
Your success in the 'psc' and the Master of Science in Defence and International Politics programmes should equip you to perform better in your careers. Indeed, you are now going to enter another phase of your career and I will urge you to put the knowledge you have acquired here to very good use.
I urge you all to be guided by two basic values: loyalty and integrity.
Loyalty requires that you remain trustworthy and faithful to your service and the nation at all times.
Integrity demands of you to be honest and truthful to yourself, service and nation. These are very important virtues in your various professions and they should be an embodiment of yourself. Moreover, as leaders, your emotional intelligence is key in order to reap the best out of those you lead. This is the simplest way to succeed.
Let me take this opportunity to specially congratulate Maj D. A. Bondah of the Ghana Army for winning the Honour Graduate Award. To the other award winners, while congratulating you on your performance, I wish to remind you that winning the awards puts more responsibility on you. You need to justify your award through your output. It should spur you on to work harder to achieve greater heights in the future.
To my brothersandsisters from Allied African Countries, who are also graduating today, I say congratulations. I do hope that you leave here with fond memories of your stay at this College in particular and in Ghana as a whole. You should remember that the training you have received here is not an end in itself.
Your country demands the best of you from the knowledge you have acquired here. You must therefore work hard to contribute your quotas to provide the necessary impetus for regional cooperation and integration. You are now worthy ambassadors of this prestigious centre of excellence.
I wish all of you safe journeys back home and happy re-unions with your families and loved ones. You are always welcome to Ghana which has now become your second home.
Distinguished Guests, Ladies and Gentlemen, I wish to express my sincere gratitude to the Minister of Defence and the Staff College Control Board for their sense of commitment and direction which has brought the College this far.
I urge them to continue to explore more avenues for resources to support the College as they have done in the past to meet the challenges of current defence management. Government is committed to playing its part. I wish to express my deepest appreciation to the Commandant, and pastCommandants and Staff for lifting the image of the College. Let us continue to translate this sense of passion into our national lives.
I thank all those who were involved in the planning and execution of this impressive ceremony. Finally, to ourDistinguished Guests who graced this graduation with your presenceI wish you safe journey back home. I thank you all for your attention.
God bless us all. God bless our Homeland Ghana.

1-26

1-11

1-18

1-19

1-20

1-21

1-22

1-27

1-31