15 June 2017
|
Opinion/Feature
Mob Justice: An Injustice Way To Administer Justice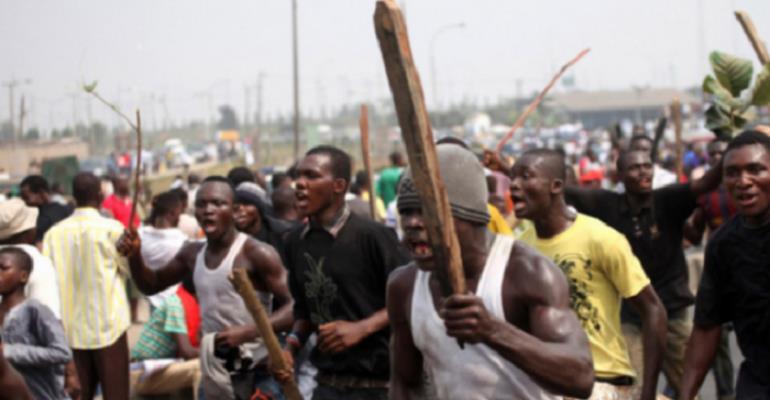 I have in recent times observed a trend in the Ghanaian media and this I must say is very worrisome. The media is a very powerful means used to publish and broadcast information and therefore serves as an educating platform. In view of this, one would expect the media is well informed of whatever they put out for consumption.
For the past few week, I have observed that both radio and television stations have suddenly switched from using MOB JUSTICE to MOB INJUSTICE to describe the barbaric incident which took place at the Denkyira Diaso District in the Central Region some weeks ago. And I ask myself; how did this come about? What is the brain behind it? Mob Justice as defined by Urban Dictionary is when a large mob takes justice into their own hands. And this is a common method of dispensing justice in the more rural areas of a country as in the unfortunate case of Major Maxwell Adams Mahama at Denkyira-Obuasi.
It is in simple terms referred to as Lynch. Lynching as can be used interchangeably with Mob justice is an extrajudicial punishment by an informal group. – Wikipedia.org It is most often associated with the informal public executions by a mob in order to punish an alleged transgressor or an individual suspected of a wrong doing. It is an extreme form of a social control by the informal group in very rural communities. When large mob takes justices into their own hand, though the action may be injustice, it does not make the action "Mob Injustice" To the mob, they are administering justice but to term it as a mob injustice may mean a different thing.
Learned Ghanaians like Samson Lardy Anyenini have used the phrase 'Mob Injustice' in his presentation on Newsfile, a TV and radio programme he hosts and I find it logically contradictory. He is a renowned lawyer for that matter. The media should really take this serious. They are supposed to be schooling the populace and not to be misleading us as it's been happening.
None of the media houses has isolated itself from such an unhealthy practice. Mob Justice is a phenomenon and no matter how injustice it can be, it should it cannot be termed as Mob Injustice. Mob justice, also known as street justice or jungle may come about as a result of a dysfunctional and a corrupt judiciary system, mainly because these law enforcement institutions have lost their credibility which has led to loss of trust by the people.
Quoting Okeke Onyebuchi, "Jungle justice is no justice at all", but a misrepresentation of justice since fairness is not guaranteed. I was almost lynched whiles on University of Ghana campus by an agitated residents of a hall after their candidate failed to win the Students' Representative council (SRC) elections in 2015 and accused me of rigging the election for his contender. I had to seek for shelter at the university library; Balme library that night. This is how bad mob action is.
Even on our University campuses, it occurs! "It is just the lowest possible point you can get as a nation; such cruelty and such bestial. It was devilish. I think we have to master all the resources we have as a nation and deal with this resolutely."- Mr. Kwesi Botchway. The government should take keen interest in this vicious act. The National Commission for Civic Education (NCCE) should up their game to educate the country on some of these vices causing menace in our societies. Everyone deserves to be heard and a fair hearing for that matter!
A concerned citizen
Hammond Akwasi Tanoh
0500001057