GHACEM Pays GH¢8m Dividend To Gov't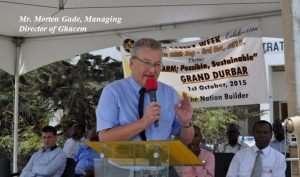 Ghacem Limited, a leading cement producing company in Ghana, has presented a cheque of GH¢3.5 million, as part of its dividend payment to the government. 
The Managing Director (MD) of Ghacem, Mr. Morten Gade, said in December 2016, an initial amount of GH¢4.5 million was paid, and that this additional payment of GH¢3.5 million, totalling GH¢8 million, represents its final payment of the 2016 dividend to government.
The MD said his company, as a policy, gives a high premium to paying dividends to its shareholders, and also meeting its tax obligations. He regretted that payment of dividends in the year 2016 had dipped slightly, and, as such, urged the government to support the company's efforts, so as to improve upon its performance.
Ghacem, he said, employs over 850 people, adding that the government's support of the private sector will expand the sector significantly, in terms of employment, tax payments and dividends to shareholders.
The Strategy and Corporate Affairs Director, George Dawson Ahmoah, also urged the government to enforce and implement the Ghana International Trade Commission, Act 926, of 2016.
Receiving the payment on behalf of the government, the Deputy Minister for Finance, Kwaku Agyeman Kwarteng, stated that the economic management strategy of the government included job creation through production and manufacturing.
To this end, he said the government was pleased to partner and support Ghacem, so as to help the company improve upon its performance.
The government, he noted, would showcase its relationship with Ghacem as an example to encourage other business concerns to follow same.
Present at the function were Mr. Anthony Dzadzra, Director, Revenue Policy Division, and David Quist, Head, Non Tax Revenue Unit of the Ministry of Finance.