10 February 2017
|
Feature Article
Hon. Boakye Agyarko is wrong about replacing civil servants with NPP loyalists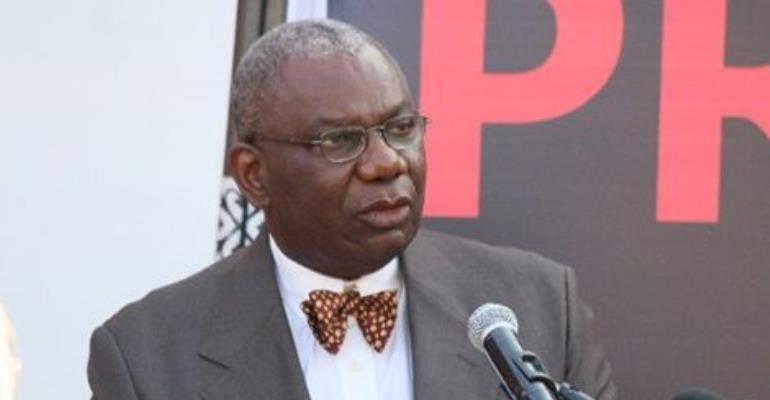 Mr. Agyarko should focus on making GNPC, TOR, BOST, ECG world class companies.
On Tuesday 7 February, 2017, Hon. Emmanuel Boakye Agyarko while speaking on Oman FM's Boiling Point programme made some statements that when viewed from national cohesion point of view were in bad taste. He said "It is important for us, as a party, to work hard and expose and shame any NDC civil servant who will dare do any dubious thing to make the NPP government unpopular…What do you think will happen to me and the state, if I should continue to have some NDC civil servants in certain critical positions?" The Chronicle has also quoted the Minister as saying "Most of our loyalists in the civil service were humiliated by the administrations of Mills and Mahama, and, so, for me, we have to urgently cater for such victims. We can't disregard the vigorous efforts of the grassroots who have given us the power".
In effect the Energy Minister is calling for the sacking of the so-called NDC civil servants. This is wrong-headed, misguided, fool-hardy and reckless statement which when implemented as a policy will bounce back to hurt the NPP and Ghana. I mean look at the tit-for-tat and the repetitive nature of toll booth and toilet grabbing that have been going on between NPP and NDC supporters. Does it help Ghana in anyway? If Mr Agyarko thinks someone is sabotaging his office the best thing is to reshuffle that office by reassigning the person. You don't sack him or her. Again rather than replacing the so-called NDC civil servants with NPP loyalists, Mr Agyako and the NPP government must work hard to create more jobs and employ everyone who qualifies irrespective of their political, ethnic or religious affiliation. That is how we build stable economy and stable democracy.
In several countries particularly oil producing ones, the energy sector provides jobs to many citizens as well as huge revenue to the state. Mr Agyarko as Energy and Petroleum minister should be telling Ghanaians how he intends to let the oil sector become a critical job creation and revenue generation sector for Ghana. The Energy Minister lived in the United States and we know how through pragmatic, visionary and robust policies on the part of the U.S. government, oil has contributed to the prosperity of the United States especially since the 20th Century.
Tyler Priest, professor of business history at University of Houston, reminds us that in the U.S. oil has "spawned a world-class industry of U.S. oil firms, service companies, and marketers. It produced vast networks of wells, pipelines, refineries, chemical plants, terminals, service stations, and power plants to deliver cheap energy. These complexes served as engines of investment and employment throughout the nation. As the chief transportation fuel, a major source of heat and electricity, and the building block for a proliferating array of consumer goods, oil underpinned a steadily rising U.S. standard of living. The control of oil also helped elevate the United States as the supreme global power." [1]
Brian C. Black, a professor of history at Penn State Altoona also tells us that "oil does not just fuel Americans' vehicles. Oil has changed their diet, their clothes, their neighbourhoods, their jobs, their fun—in fact, everything about U.S. society...From the Big Mac to Tupperware's burping bowl, petroleum provided the raw material for much of what defined consumption in postwar America." [2]
As Energy and Petroleum minister, Mr Emmanuel Boakye Agyarko should be telling Ghanaians how he intends to make oil do some miracles for Ghana just as it has done for Canada, Norway, the United States and the United Kingdom.
The Minister should explain to Ghanaians how he intends to transform Ghana National Petroleum Corporation (GNPC) and Tema Oil Refinery (TOR) from their current obscure non-performing positions to world class national champions similar to Algeria's Sonatrach, Saudi Arabia's Saudi Aramco, Malaysia's Petronas, Angola's Sonangol and Brazil's Petrobras. These national companies have grown in size over the years with assets and operations in several countries generating huge revenue for their respective countries and contributing to development.
Despite the important role of oil refinery in the national economy, TOR's refinery capacity has changed very little since it was constructed by the Italian firm ENI in the early 1960s. TOR has not taken advantage of Ghana's current status as an oil producing country because of the penchant of politicians to focus their energies on non-productive activities. Consider Singapore for example. That Asia city-state produces no oil at all. Yet it refines close to four million barrels of oil a day of which much is exported abroad generating huge direct and indirect employment and revenue for the country. Meanwhile Ghana which produces oil refines 45,000 barrels a day and have to rely on others to close the shortfall of 20,000 barrels needed daily in the country. Mr. Agyarko should tell Ghanaians how he intends to robustly expand TOR's refinery capacity to serve Ghana, West Africa and the global market.
We want the NPP government and Ghana to succeed but such fool-hardy rhetorics from people who should know better will only harm Ghana in the short, medium and long term.
Reference
[1] Priest, T. (2012) 'The Dilemmas of Oil Empire' The Journal of American History, 99 (1), pp.236-251 https://academic.oup.com/jah/article/99/1/236/854867/The-Dilemmas-of-Oil-Empire
[2] Black, B. C. (2012) 'Oil for Living: Petroleum and American Conspicuous Consumption' The Journal of American History, 99 (1), pp.41-50 https://academic.oup.com/jah/article/99/1/40/854652/Oil-for-Living-Petroleum-and-American-Conspicuous