Small And Medium Enterprise Can Propel Growth -Nyadia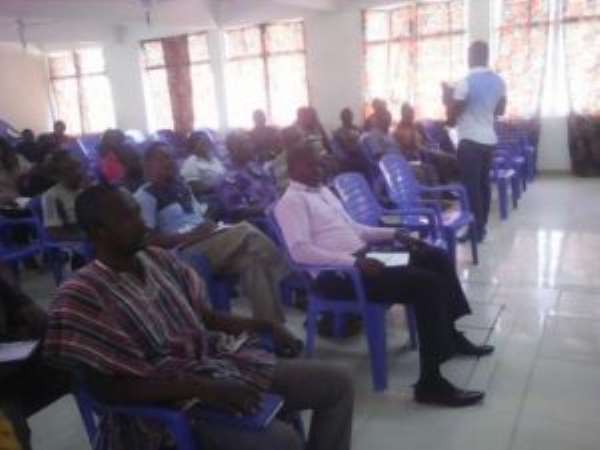 Mr. Nelson Sulemana Nyadia, a Senior Grant Officer at the Skills Development Fund (SDF), has said Small and Medium Enterprises had huge potentials to propel Ghana's economy to appreciable height if effectively supported.
He said the training of masons, carpenters, electricians, plumbers and mechanics among others could create a number of jobs for the youth.
Mr. Nyadia who said this during a Training workshop on Innovation Grants Outreach, organized at Bolgatanga Polytechnic in the Upper East Region added that in spite of the potentials in that sector, just little attention had been given to it.
The programme which attracted stakeholders from the Polytechnic, Universities, Incubating institutions such as the GRATIS Foundation and other Technical schools, was aimed at exposing the stakeholders to procedures and criteria on how to access grants under the phase two of the SDF which is opened and expected to end by February 8.
Mr. Nyadia explained that it would help address some of the challenges that the SDF with support from the Danish International Development Agency (DANIDA) and the World Bank offered encountered after skills training in the Technical, Vocational Education and Training (TVET) for the informal and some formal sectors from 2000 to 2011.
He said $55 million US dollars was disbursed under the phase one of the SDF to institutions for the training of people engaged in small and medium enterprises.
He said these selected institutions were supported to develop economic and demand driven skills training programmes which focused on practical training leading to three-fold improvements in the productivity of beneficiary enterprises in the country.
The Senior Grant Officer encouraged the institutions to apply for the second phase of the SDF, disclosing that the Government of Ghana had received $14 million US dollars from DANIDA to support in the skills training programme which covered both the informal and formal sectors.
He noted that the support would also focus on Sustainable energy, agro-business and agro-processing and the training content would require industries that would ensure the continuity of productivity and competitiveness.
He urged stakeholders who would be applying for the funding support for the training to be     clear, diligent, honest and creative in their submission, and develop short to medium term skills training programmes that were technical and practically oriented in nature.
This he said would help in poverty reduction, generate employment, increase productivity as well as contribute to the growth of the economy.
Mr Nyadia said apart from being creative in submitting application for funding, applicants should also be unique and new in their content with new target groups.
The Vice Rector of the Bolgatanga Polytechnic, Dr Samuel Alnaa lauded the management of the SDF and its funding agencies for the support and entreated the participants to take advantage of the opportunity provided to grow their businesses.
Source: GNA