Mantrac Ghana hosts Caterpillar Group President as part of 80th anniversary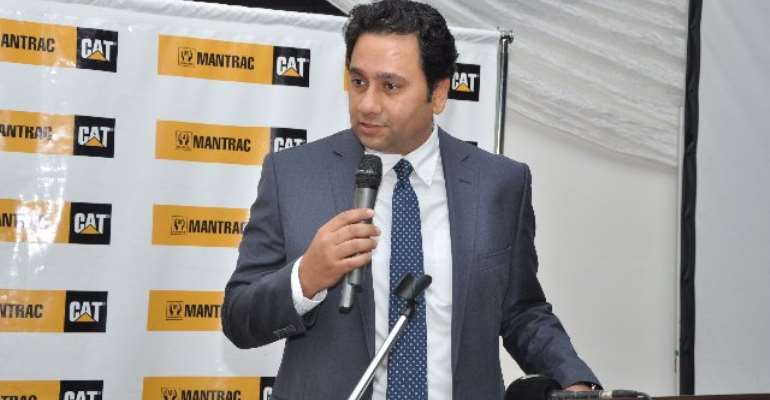 Mantrac Ghana Limited the sole authorized dealer for Caterpillar products in Ghana last week hosted one of the Group Presidents of Caterpillar, Denis C. Johnson.
Denise is responsible for Resources Industries, which includes three divisions – Innovation and Technology Development, Material Handling & Underground, and Surface Mining & Technology.
This visit is very strategic as Mantrac Ghana celebrates its 80years anniversary as the Caterpillar equipment dealer in Ghana from 1937 to 2017.
Mantrac Ghana has evolved from Gold Coast Machinery and Trading (GCMT), a division of United Africa Company since 1937, to Tractor & Equipment (T & E) and finally to Mantrac Ghana Limited, part of the giant Mantrac Group since 1996.
An executive cocktail reception was held in her honor as part of the two days official visit to Ghana.
Also in attendance was Loufty Mansour, Group CEO of Mantrac Group, Omar El Bakary, the COO of Mantrac Group amongst other top executives of Mantrac Group and Caterpillar.
The cocktail event was attended by top business executives, directors from the Ministries, Members of American Chamber of Commerce, diplomats, business leaders and key Caterpillar and Mantrac customers.
Mrs. Denise Johnson mentioned there is a huge optimism in Ghana's growth due to the natural resources available and the current political stability.
She also mentioned Caterpillar's collaboration with its dealers to invest $1 billion in business, education, and training across Africa over the next 5 years.
On the issue of Mantrac Ghana' existence for the past eighty years, Dennis C. Johnson mentioned that it's as a result of Caterpillar and its dealers resolve to stay true to our mission and purpose and finally the quality of our equipment's. She said Caterpillar grows as the world growth due to the role Caterpillar Machines play in infrastructural development.
On his part, the Managing Director of Mantrac Ghana who was full of excitement mentioned that Mantrac Ghana is currently investing over $60million to boost its capabilities and structures.
Key amongst this investments is the world class component Rebuild Center at Takoradi, upgrade of its offices and workshops in Kumasi, Takoradi, Tarkwa and new premise in Tema.
He said all these efforts are to expanding our business portfolio and to deepen customer service support for Caterpillar Equipment users in the Ghana and West Africa.
He further stated the company is hopeful of completing and commissioning the massive Takoradi component Rebuild Center which would offer over additional 100 workforces locally.
About 300 staff are currently being contracted to work on the project. This is the biggest investment undertaken by Mantrac Ghana in the country to support sectors namely mining, oil, and gas, constructions, he said.
Mr. Adeeb said that the company's CSR support projects have invested over $150,000 into 'Right to Dream Footballs Academy and Schools' which has enabled the poor but talented young Ghanaian footballers to be educated.
In late 2016 Caterpillar Mantrac launched a free on-line training program called Technicians for Africa Project. As we speak over 430 young technicians have already been trained free of charge as Caterpillar Technicians awaiting for Certification. This will give them the opportunity to work in any caterpillar setup across the world.
With respect to taxes, he mentioned just an example of Mantrac Ghana huge contribution to the economy in 2016 the Airport Customs Division of the Ghana Revenue Authority awarded Mantrac Ghana as the "2nd Top Tax Payer" this is in respect of air freight duties due to the constant demand for caterpillar spare parts by customers.
The company paid over Ghc 43, 000, 000. 00 to the GRA as tax contribution. This is just for 2016 Airfreight duties only meaning the total tax payments of Mantrac to the economy of Ghana for the past 80years cannot be downplayed.
Emad assured: "We want to use this occasion to assure the government, partners, business community and our cherished customers of our continuous support to make sustainable progress possible through products and services. This is seen in our carefully selected and well-trained, multicultural team of over 600 professionals bent on making sure our customers are well supported with the best equipment as always."
On his part, the Chief Executive Officer of Mantrac Group Mr. Loutfy Mansour mentioned the group readiness to continuously invest in the Ghana business to better support our cherished customers who have been with us for the past 80years.He indicated Mantrac Ghana has all the Capabilities as a world class Caterpillar dealer ready to support every caterpillar equipment operating in Ghana.
Mantrac Ghana currently provides the complete range of Caterpillar Construction Equipment and has a proven track record in supplying and supporting machines for major developmental and infrastructural projects. This includes General Contracting, Road Building, Land Reclamation, Quarries and Agricultural projects and many more.
Mantrac Ghana Limited is also part of the giant Mantrac Group which holds the Caterpillar dealerships in Egypt, Nigeria, Sierra Leone, Liberia Kenya, Tanzania, Uganda, Iraq and in the Western Siberia region of Russia. Being part of an international network gives a competitive edge in product delivery and service support.
Story by Ghana | Myjoyonline.com