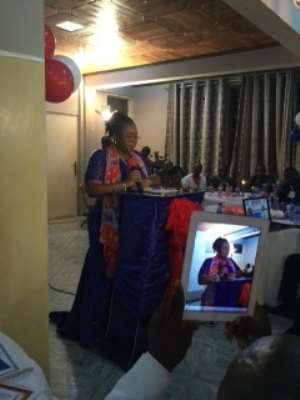 Nananom, Distinguished Guests, the National Coordinator, Fellow PAPers.
I doff of my hat for you for your presence at this memorable function. As you are all aware, a lot was said about me when my name was mentioned to take the chair. I wish I could have the time to probably modify some of what was said about me. The only one that I cannot disagree with is that I am the first granddaughter of the late S.D. Dombo.
It is with great humility that I accept the chair for tonight's fundraising event being organised by Patriotic Ambassadors for Peace (PAP), a Volunteer Group in the New Patriotic Party (NPP). This noble group is the brainchild of Katakyie Kwame Opoku Agyemang, an Electoral Area Coordinator in the Bekwai Constituency.
For the benefit of those who have not heard much about PAP, the group's main objective is to promote peace in the party, bridge the class gap and to canvass for votes for Nana Addo Dankwa Akufo-Addo to win the December polls. The group, apart from embarking on outreaches, is also supporting adopted constituencies by way of logistics and funds.
Distinguished Guests, Fellow PAPers, permit me to send this message to Nana Akufo-Addo: You will be addressed as 'His Excellency', Nana Addo Dankwa Akufo-Addo, President of the Republic of Ghana after the December elections. As the Chair and also a proud member of PAP, I would like to assure all participants that, the proceeds of this fundraising will be used exclusively to provide food and refreshments to the our Polling Agents on the election day. This is because we want their eyes to be glued to the ballot boxes. For, we do not anticipate bad history repeating itself in 2016.
Before I take the seat as Chairperson, I wish to remind PAPers in particular and Ghanaians in general of the inaugural speech of the late John F. Kennedy in 1961. "Americans, do not expect what America can do for you, but what you can do for America."
In the same vain I shout, Ghanaians, do not expect what Ghana can do for you but what you can do for Ghana. All of us are aware and are witnesses to the ills and the challenges in the country – the high cost of living, high unemployment, massive corruption, mediocrity etc. Change of government is necessary and the NPP led by its incorruptible leader, Nana Akufo-Addo and assisted by Alhaji Dr. Mahamadu Bawumia could put the country on the right path.
Nananom, Ladies and Gentlemen, by the courtesy given to me, I have resolved to steer the affairs of this function to a successful end. However, I cannot do this without your cooperation and financial support. PAP, as a Volunteer Group cannot achieve its goals unless you dip your hands deep into your pockets, wallets, purses and handbags. Kindly support PAP's cause because it is a good one. It is a cause for a positive change in the lives of many Ghanaians.
Please give generously. Once again with humility, I accept chair tonight's function and promise to do my best.
Thank you and God bless you!