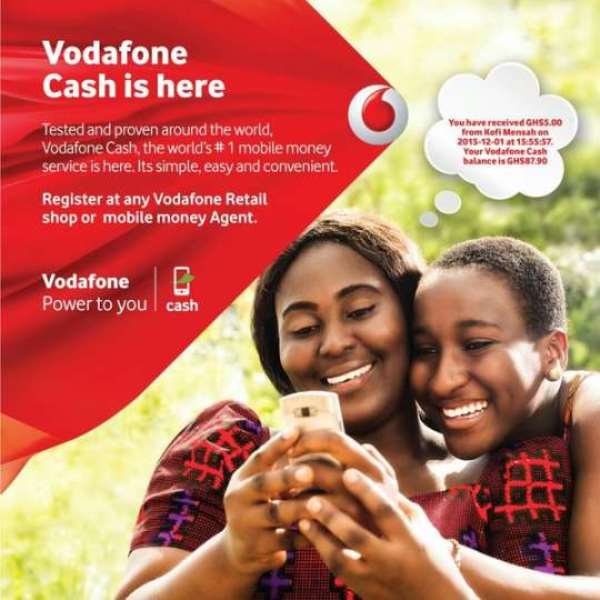 Accra, Sept. 17, GNA - Vodafone Ghana has paid close to half a million Ghana cedis as interest payments on Mobile Money to its customers.
The amount is significant, especially as Vodafone Cash, the telecom company's Mobile Money service, started operating less than a year ago in Ghana.
A statement issued in Accra by the Company and copied to the Ghana News Agency said the decision to pay interest emanated from new guidelines on Dedicated Electronic Money Issuers from the Central Bank.
The statement said the Bank of Ghana directives instructs banks to pay interest on floats from mobile money platforms to telecom companies, out of which 80 per cent was mandated as interest payment to mobile money customers.
It said the latest development meant that customers would earn from 1.5 per cent- seven per cent interest on their deposits.
'The payments are in two tranches - September 11, is designed for the 2016 first quarter payments, while second quarter payments are due on September 18,' it added.
It said at the end of September Vodafone would have paid a total of GH ȼ 465,000.00 to over 280,000 customers across the country.
Mr Martison Obeng-Agyei, Head of Vodafone Cash said: 'This is a landmark move by the Central Bank for all mobile money operators in the country.
'It is very significant because customers can now have some dividend based on their level of transactions on the platform.
'For us at Vodafone, we are happy with the reception of our global money platform, which is evident from the number of customers we have acquired in less than a year of operations. We are confident that going forward, we will become very significant in this space in the country,' he said.
Vodafone Cash was launched nine months ago and thrives on the M-PESA platform, which has a global reputation for delivering the best and convenient user experience and reliability.
GNA