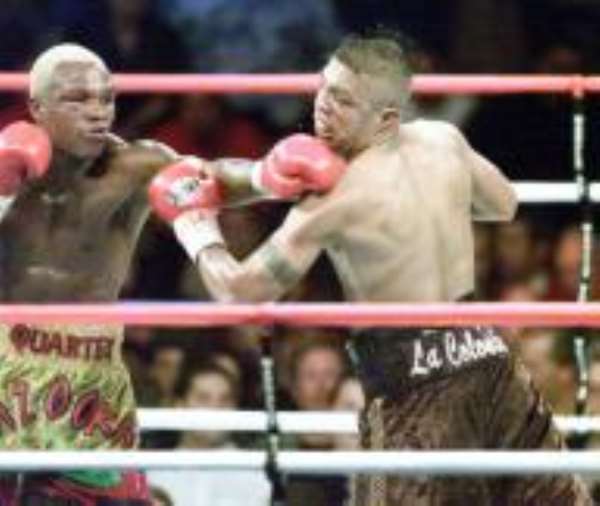 Accra, Jan. 15, GNA - Former World Boxing Association (WBA) Welterweight Champion Ike "Bazooka" Quartey made a great comeback in the early hours of Saturday after nearly four years lay-off, recording an eighth round knockout over American Clint Scott McNeil in their 10-round Middleweight fight at the Azumah Nelson Sports Complex. Quartey, who fought cautiously with intermittent explosive hooks and body shots, became the first boxer to knockout the stocky American. The victory updates Quartey's records to 35 fights of which he won 32, lost two and drew 1 (30KOs) against that of his opponent's 28-18-9-10 (9Kos).
The well-trimmed, clean-shaven 35 year-old Quartey dominated the bout from the early round, sending straight jabs to the forehead of McNeil with occasional hooks to his mid-sessions, forcing the American to back-pedal.
But getting to the final seconds of the first round, the 26 year-old McNeil stepped up his gear with desperate punches on the former world champion.
McNeil pummelled Quartey aggressively in the opening seconds of the second round but it was brief as the Ghanaian maintained his composure with his trademark left jabs, dazing his opponent in the third round. However, the "Bazooka" could not deliver the kill before the bell sounded.
By the fourth round, the American had started bleeding through the nostrils with swollen eyes, but he was unperturbed as he matched Quartey toe-to-toe.
A combination of left-right hooks to McNeil's ribs forced him to kneel on the canvas in the seven round but the stubborn boxer, who wanted to keep a clean sheet as never been knockout before, indicated to referee Bob Sackey that he was in shape and was saved by the bell before Quartey could expunge him.
McNeil again visited the canvas from a right fury punch on his head but he managed to get back into contention. He was however not third time lucky as a combination of left-right to his ribs sent him sprawling on the canvas, barely two minutes into the eighth round and had to be revived by a team of doctors.
"Quartey's jabs are unbelievable. I believe he'd become a world champion again," said McNeil after the fight. But he added: "No matter what happens, I will still praise my lord and saviour," stating that he would also become a world champion one day.
McNeil said he did his best but Quartey was a better boxer on the night, which also featured seven other contests including crowd-puller Braimah Kamoko (Bukom Banku) versus Ivorian Jean Marie in an international light heavyweight contest.
In spite of the victory, Quartey was cautious, saying, he needed one or two more fights before he could dare the big boys in his new division, which include Hopkins and Felix Trinidad.
Alhaji Rashid Bawa, Minister of State at the Ministry of Education, Youth and Sports, later decorated Quartey with a Commonwealth award, golden category.
In the other bouts, George Ashie, who turned professional last year, disposed off Rasta haired veteran boxer Peter McIntosh vie a fifth round technical knockout in their international lightweight contest. McIntosh visited the canvas in the third round and went through the ropes in the fourth and the referee had to save him in the third minute into the fifth round after several unanswered punches.
Thomas Awinbono, a member of the 2002 amateur boxing team that participated in the Manchester Commonwealth Games, registered his first loss since turning professional in the hands of Ishmael Tetteh. Tetteh brushed aside a second round knocked down to overpower his younger compatriot in a split decision - 78-75, 76-77 and 70-75. He improves his records with 11-8-3 (7Kos) while Awinbono now has 4-3-1 (1KO).
Lartekwei Hammond, also known as the "Shocker", made nonsense of his opponent from the Democratic Republic of Congo, Ken Moyanga, with a third round technical knockout in an International welterweight contest while Ghana's Philip Kotey gave Nigerian Ola Shakilu a third round knockout inn their international welterweight contest.
Former captain of the Black Bombers, Charles Adamu, produced an uninspiring performance but managed to dispose off Nigerian Basil Ezikwe in the second round of their scheduled eight round contest in an international super middleweight contest while Osumanu Adama also registered a second knockout over Solo Issa of the Ivory Coast in an International Light middleweight contest.
Although one of the appendages (under cards) of the main Quartey-McNeil fight, the international light heavyweight contest between crowd-puller Bukom Banku and his Ivorian counterpart Marie was arguably the most exciting.
The bout was preceded by a musical performance by cronies of Banku known as the "Drinkables" and as he mounted the ring he also performed a rap song originally sang by hip-life star "Tinny" - "I believe I can fly".
He capped his exciting night with a second round knockout over his bushy haired Ivorian Marie.
The bouts put together by Jumus Promotions, in collaboration with Mascot Hotel and Metropolitan Television was spiced with great musical performances by 4X4, Tinny, Slim Buster and Papa Rhooo.