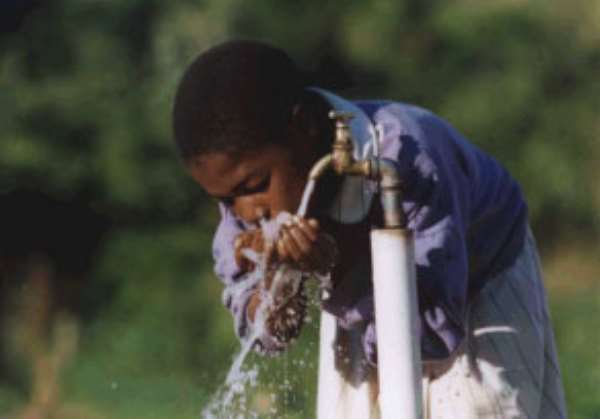 Accra, Jan. 5, GNA - Government's quest for private sector involvement in the provision of water would finally take off on Thursday, January 6, when it signs a 103 million-dollar grant with the World Bank under the Ghana Urban Water Project.
Mr Samuel Gerald Odartei Lamptey, Managing Director, Ghana Water Company Limited (GWCL), told the Ghana News Agency (GNA) on Wednesday that lack of money had delayed the implementation of the project.
He said the project would drastically cut the workforce of GWCL to about 2,000, which is almost half the total staff strength of the Company.
"In fact the GWCL workers have understood and are satisfied with the process so far, except that the local union wanted to be cork sure of the gratuity and compensation package due them," he said.
The total project cost is 120 million US dollars. The Nordic Development Fund is providing five million dollars whilst the government of Ghana foots the remaining 12 million dollars.
The project is expected to improve access to safe, reliable and affordable water supply services to customers targeting especially the urban poor.
It is also aimed at assisting the GWCL to strengthen its management practices and pursue long-term financial stability, viability and sustainability.
A statement regarding the signing of the World Bank grant agreement copied to the GNA quoted Mr Mats Karlsson, the World Bank Country Director, as saying, "After many years of discussion, I'm happy that we now can move from talk to action.
" We've prepared well and digging and laying of new pipes should start as soon as possible."
The first component of the project involved network expansion and rehabilitation, which would focus on increasing the amount of bulk water for distribution in urban centres and in extending water supply services to low-income areas.
The public-private component of the project aims at improving overall service delivery to customers by engaging the private sector under a management contract to operate GWCL's water systems throughout the country for five years.
The private sector participation component would form six per cent of the total project cost. The bidding process for this component is in process.
The third component estimated to cost 7.7 million dollars would focus on capacity building.