Gambia tightens noose on dissenters - Amnesty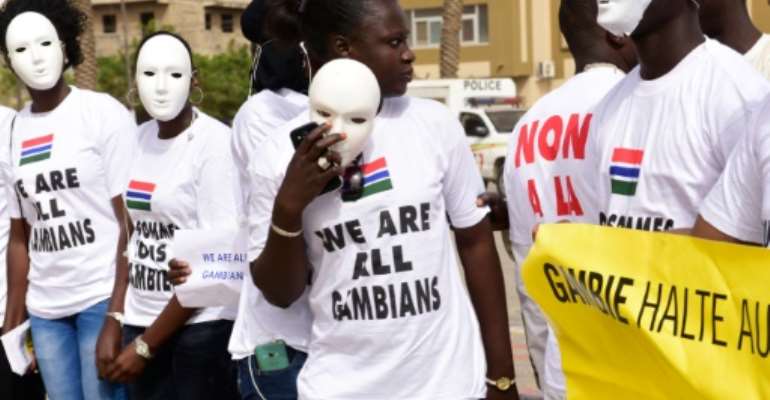 Dakar (AFP) - Critics of Gambia's government are increasingly fearful of arrest, torture and imprisonment as the west African nation clamps down on free speech ahead of polls expected to land President Yahya Jammeh a fifth term, Amnesty International said Thursday.
Opposition politicians, journalists, human rights defenders and religious figures have all faced a crackdown on their right to express themselves and organise peacefully, according to an Amnesty report entitled "Dangerous to dissent".
"Consistent patterns of violations... have created a broader climate of fear that extends to other sections of society, in which the dominant response is one of self-censorship," the report said.
This was driven by fear of instruments of state power such as the National Intelligence Agency, the country's notorious secret police, it said.
NIA agents "routinely require people who are arrested to provide passwords to their emails, social media accounts and phones, and often obtain these through the use or threat of torture and other ill-treatment," according to the report.
The NIA also routinely punched, burnt, beat and tortured those in custody, it said.
Jammeh seized power in a bloodless coup in 1994 and is regularly accused of a catalogue of rights abuses. He recently said UN chief Ban Ki-moon and Amnesty could "go to hell" for urging an inquiry into a protestor's death in custody.
Opposition activists have borne the brunt of a crackdown on basic rights, Amnesty said.
Dozens of members of the opposition United Democratic Party (UDP) were arrested in April and May following rare protests in the tiny west African nation, with at least one unexplained death in custody.
Meanwhile legislation passed in June 2015 vastly hiked the deposit required to run for president, and imposed stricter rules on campaign finance and residency requirements, which Amnesty said was "increasing barriers to political participation".
- Journalists flee -
For journalists, a climate of fear that has worsened since an abortive December 2014 coup is driving many into exile, according to the report.
Making use of laws dating back to British colonial times, Gambian authorities have charged independent reporters with sedition and forced three different outlets to close since 2011.
Citing the Doha Centre for Media Freedom estimates, Amnesty said 110 journalists had gone into forced exile since President Yahya Jammeh came to power in 1994.
Alagie Ceesay, manager of the Teranga FM radio station, was given as an example of a media figure slapped with sedition and "publication of false news" charges last year for privately sharing a provocative photo of Jammeh.
After being denied bail despite serious health problems, he was heading for a prison sentence until he escaped in mid-April.
Elsewhere, despite Jammeh declaring the Gambia an Islamic state, religious figures were far from immune to the generalised climate of fear, Amnesty said.
Imam Sawaneh, a respected figure who presented a petition to Jammeh's office, had been held in incommunicado detention for more than eight months, the report pointed out.
Calling for an end to all "arbitrary arrests, incommunicado detentions and torture", Amnesty said bodies such as the United Nations and the Economic Community of West African States (ECOWAS) needed to be much firmer with Jammeh's regime.