Airtel And Microsoft Encourage Young Ghanaian Females To Choose A Career In ICT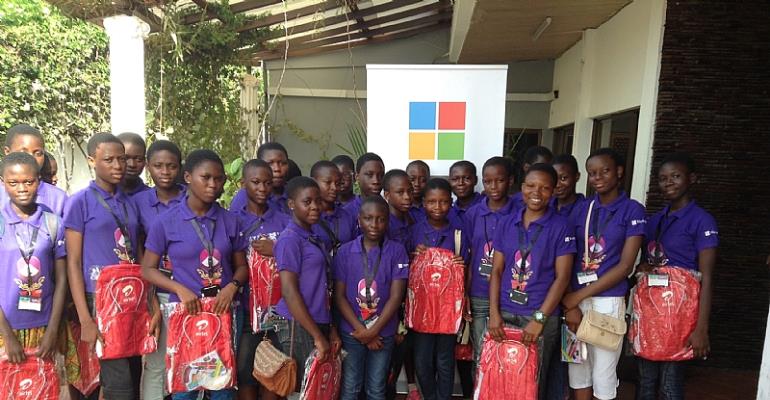 19th April 2016, Accra: Airtel Ghana, through its Evolve with STEM initiative, has collaborated with Microsoft Ghana for the maiden edition of the internationally acclaimed DigiGirlz Day in the country.
DigiGirlz is a Microsoft initiative that provides school girls an opportunity to learn about careers in technology and connect with mentors in the field to inspire them. During the one-day event, participants are also exposed to hands-on computer and technology workshops.
The inaugural event took place on Saturday April 16 at Ispace Hub, Labone under the theme "Demystifying STEM" involving 60 girls from public schools in Accra, 15 of the girls were selected from the Mataheko Cluster of schools under Airtel's Evolve with STEM project.
Lucy Quist, Managing Director of Airtel Ghana and CIMG Marketing Woman of the year, who is spearheading the Evolve with STEM initiative was joined by key personalities such as media entrepreneur, TV & Radio host Anita Erskine, Founder of Nandi Mobile – Anne Amuzu and Founder of Levers in Heels – Larissa Bowen-Dodoo.
These sessions saw the mentors inspire the young girls to overcome their fears and challenges so as to venture into the technology industry. All mentors shared their personal experiences with the wider audience and later engaged in a one-on-one mentoring and career guidance session with participants.
Aside the mentoring session, the young participants were taken through the "Hour of Code" session where they were taught basic coding and computer programming in HTML.
Speaking after the session, Lucy Quist said "It's been an exciting time spent with all the participants of DigiGirlz today. I am encouraged by their curiosity, passion and determination throughout the session. Science, Technology, Engineering and Mathematics (STEM) is an enabler for creativity and problem solving in young people which is why we launched the Evolve with STEM initiative to inspire belief, empower and transform mindsets of young people towards STEM. Today's session included some of the brilliant students from schools within the Mataheko Circuit where we are currently piloting the Evolve with STEM initiative".
She continued "we are proud to be associated with DigiGirlz, which aligns with Evolve with STEM. It is great to see organisations like Microsoft, a technology giant, support initiatives to empower young people through STEM".
Madam Bernice Ansah, a teacher of the Mataheko Roman Catholic School had this to say about the event, "The programme has brought a lot of enlightenment to the pupils, they were able to socialize and engage with their peers which helped to boost their confidence. They now have renewed belief in themselves, a belief that will grow if they are encouraged by their parents and teachers. I am personally grateful because I also learnt how to program during the very interesting hour of code session."
Derek Appiah, Country Manager of Microsoft Ghana said "Microsoft is committed to encouraging more women to join the ICT industry and we are inviting Ghanaian high school girls to discover the opportunities that exist for them in our industry. We want to demystify any belief that STEM is for boys so as to ensure that they make the right education choices now for the bright future that they deserve."
DigiGirlz is a Microsoft YouthSpark program focused on giving Junior and senior high school girls the opportunity to learn about the professions in technology, networking opportunities with tech personalities and to also participate in practical computer and technology workshops.
Airtel's Evolve with STEM initiative, since launch in December 2015 has impacted more than 1,000 pupils and inspired hundreds of individuals and companies into action to launch initiatives focused on STEM.
About Bharti Airtel
Bharti Airtel Limited is a leading global telecommunications company with operations in 20 countries across Asia and Africa. Headquartered in New Delhi, India, the company ranks amongst the top 3 mobile service providers globally in terms of subscribers. In India, the company's product offerings include 2G, 3G and 4G wireless services, mobile commerce, fixed line services, high speed DSL broadband, IPTV, DTH, enterprise services including national & international long distance services to carriers. In the rest of the geographies, it offers 2G, 3G and 4G wireless services and mobile commerce. Bharti Airtel had over 353 million customers across its operations at the end of January 2016. To know more please visit, www.airtel.com
About Airtel in Africa
Airtel is driven by the vision of providing affordable and innovative mobile services to all. Airtel has 17 operations in Africa: Burkina Faso, Chad, Democratic Republic of the Congo, and Republic of the Congo, Gabon, Ghana, Kenya, Malawi, Madagascar, Niger, Nigeria, Rwanda, Seychelles, Sierra Leone, Tanzania, Uganda and Zambia. Airtel International is a Bharti Airtel company. For more information, please visit www.airtel.com , or 'like' the Airtel Ghana Facebook page via www.facebook.com/airtelgh or follow us on Twitter via the handle @airtelghana.