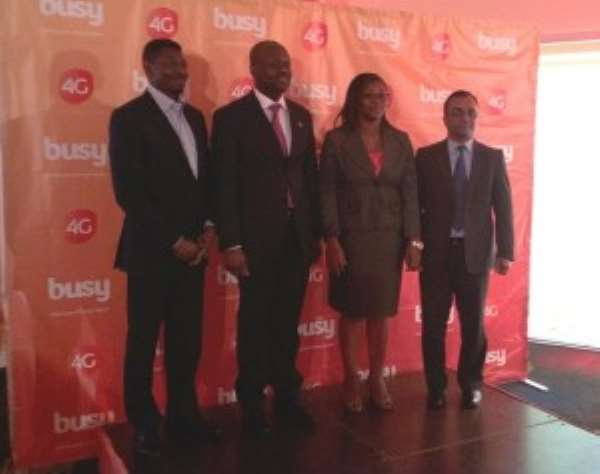 Internet service provider, BusyInternet, now 'Busy' – has launched a cutting edge 4G data service aimed at providing high quality internet service to businesses and customers.
With the launch of the 4G service, said Praveen Sadalage, the Managing Director of Busy, customers and businesses would enjoy an innovative and flexible range of 4G data packages, plus MiFi and wireless routers designed to suit every need, delivered with high quality and personal customer service.
He said: "We have made sure that our innovative 4G service is fast, affordable, reliable and flexible; because that is what consumers told us was most important to them." According to him, the Busy brand's aim was to "enrich lives through connectivity and that our launch of 4G services that are accessible to the mass market is a major first step towards us achieving this."
Sadalage, therefore, urged companies, institutions, entrepreneurs and the public to join the excitement and explore Busy's state of the art services, saying "Let's Get Busy." He was speaking at the ceremony to officially announce the launch of the 4G service and also unveil Busy's new brand name – Busy and Logo.
The new look was designed to symbolize the brand's dynamism, youthfulness and positivity, which was aimed at moving the brand forward into what he described as "this exciting new era" whilst also being true to the brand's proud heritage. Dr. Edward Omane Boamah -Minister of Communications congratulated Busy for playing a pioneering role in the evolution of internet services in the country.
He said: "For over a decade, Busy symbolized the provision of internet service in Ghana and I am particularly encouraged that you have taken your service to the next level to meet increasing demands of your wide range of clients." Continuing, he stated that the increasing number within the 4G landscape was a clear attestation that the economy is business friendly and that investors are trooping in to invest in the country.
He advised the management of Busy to stick to its license conditions to ensure the provision of enviable quality service to the people. The National Communication Authority's (NCA) Director of Regulatory Administration, Paul Kofi Datsa also admonished Busy to, in its quest, serve the public always, adhere to the NCA's regulations.
Mrs. Linda Narh, head of Marketing at Busy, on her part observed that there had never been a better time to upgrade to 4G, with MiFi priced from as low as GH¢ 99.00 – declaring that "4G is more affordable than ever." Busy 4G data bundles; she said ranges from 100MB for casual users to 50GB commercial users with the ability to rollover unused data from one bundle to the next.
Also, Mrs. Narh added Busy would offer a choice of unlimited freebies to any customer who purchase more than 5GB of data each month –and that customers can choose between unlimited and free usage of facebook, whatsApp, youtube, ghanaweb and myjoyonline.
By Mohammed Awal ([email protected])