Former Minister calls on NDC party supporters to stand united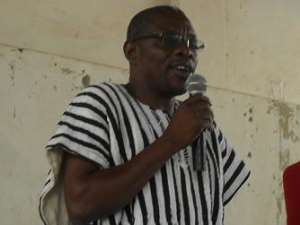 Bongo(UE), Sept 14, GNA - Dr Epraim Nsoh Avea , one of the Parliamentary aspirants of the National Democratic Congress (NDC), who has filed to contest in the primaries in the Bongo Constituency, has appealed to party delegates and supporters to stand united and work hard to ensure victory for the party in 2016.
The former Upper East Regional Minister, made the appeal when he filed his nomination form last Thursday, and said though the NDC had always won both parliamentary and presidential elections in the Constituency, he was looking forward to a better performance in 2016 in terms of the gap between the NDC and the New Patriotic Party (NPP).
The Aspirant who is also a Lecturer at the University of Education, Winneba, also cautioned his challengers to avoid peddling lies about others in the competition in their quest for power, since such things could destroy the unity and prospects of the Party in the upcoming general election.
Recounting his experience, he said that twenty-three years ago when he led the youth to form what later became the functional NDC Youth of the Constituency, the Party picked up a sterling performance which endured for years.
According to him, such exemplary performance was made possible as a result of unity, love, and the spirit of voluntarism for the Party.
The Aspirant who attracted a large crowd during the submission of his nomination at the Constituency office, also used the occasion to launch his campaign team and cautioned them to campaign based on issues.
He promised to offer a new leadership style, a change of management leadership that would bring development to the Constituency, especially in the reduction of poverty and the strengthening of party structures.
In an interview with some of the people in the crowd, they said he had contributed immensely to poverty reduction, especially among women in the Constituency by setting up more than 195 village saving and loans groups, which had benefitted more than 2000 women directly.
The women's groups particularly praised him for establishing the Village Savings and Loans Schemes which had benefited thousands of women in the Constituency and assured him of their unflinching support to win the seat.
Whilst others praised him for his contribution in the area of education leading to several people acquiring jobs and facilitating the growth of the NDC Party in the Constituency since 1992, others also lauded him for always looking for opportunities to bring about development to the Constituency.
The other contestants include Mr Charles Adongo Bawa Duah, a legal practitioner, Corporal Robert Awuka, Detective of the Accra Central Police Station, Mr Edward Abambire Bawa, a Communication Consultant to the Energy Ministry and Mr. Donatus Akamukri, the Regional Secretary of the Party.
GNA