Role Model Africa Presents Corporate Dialogue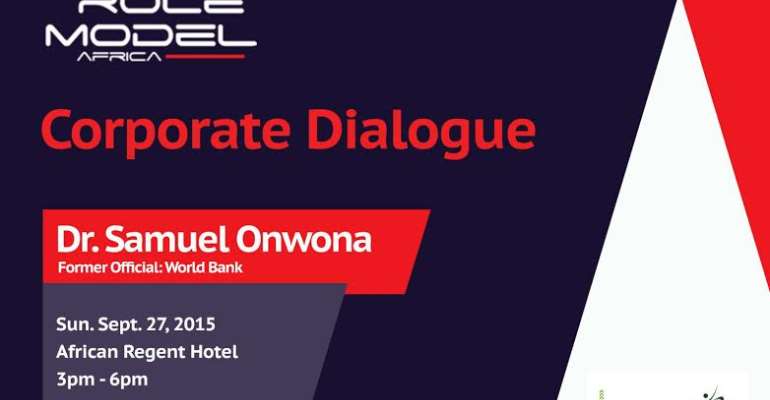 Introduction: We Tell A Story
Perhaps when Dr. Kwame Nkrumah, remarked that, 'The Black man is capable of managing his own affairs', he was more than right. Being considered as the 2nd largest continent on the Planet, the continent is evidently known to be endowed with human capital, people whose influence is indelible on the Globe. We can talk of Native Africans like Kofi Annan, who served us General Secretary to the United Nations for a period of nine (9) years, 1997 to 2006.
His contribution in maintaining peace in several areas remains invaluable. Again we can talk of Dr. Ashiteye Trebi-Ollenu and Dr. Ave Kludze Jr, making their contributions in Robotics at the National Aeronautics and Space Administration. In business and entrepreneurship we can talk of Sam Jonah. In Sports the impact of Usain Bolt, Abedi Pele, Didier Drogba to mention a few are skills to be desired. In Ghana the contributions of Azumah Nelson remains legendary.
The African story can be told in this manner, in a very remarkable way. We can sustain this legacy when these Role Models share their stories and mentor young ones to tread their own distinct paths in unique ways making global impact.
INVENTS seek to provide Africa's Flagship Mentoring Platform dubbed 'Role Model Africa', an initiative that seeks to sustain the legacy, values and heritage of Africans whiles increasing our contributions on the globe. We are a continent to be desired. We are unique in our own way. We carry our destiny in our hands. We do not pity ourselves, we are change agents. We are committed to influencing significant progress in systems and structures to necessitate and accelerate growth. We tell a story. We write the books we want to read, we film the movies we want to watch, we start industries to manufacture the products we want to use, we create bridges to convey trans-generations. Nations come to us and we lend to them. We think of generations yet on born. We mentor our younger ones. We tell a story. We are Role Models.- The Role Model Pledge
Overview
The Role Model Africa Project seeks to engage Africans whose influence spans beyond the continent.
The Platform will interview African Presidents, Business Magnates, Investors and you name it. It seeks to be a Personality interview that engages the corporate contribution of the person and a wider perspective on Africa.
The Platform which is expected to be a Television program will take off as an interview with a live audience and several episodes will be recorded and later shot on television.
The concept is rooted in the idea that Africans can serve as their own Role models by telling their stories and mentoring younger ones.
The idea is to bring together several key stakeholders to serve as mentors to persons who are in their field or rather interested in taking the similar paths they have engaged in.
Online Platform
The Role Model App will be launched during the premiere of the program. The App which is an online interface will bring together Role Models to mentor individuals and organisations in the quest of sustaining their brands and take the products and services to several parts of Africa and the Globe at large.
Premiere: The First edition of Role Model Africa will take place on Sunday 27th September 2015.
Period: The Program is scheduled to be a monthly program, slated on the last Sunday of each month.
Venue: African Reagent Hotel Accra.
Guests: Guests to be interviewed on the platform include African Presidents, Business Owners, founders of Churches and African global companies, International African Leaders, African Policy makers and decision makers, Influential figures including Sports men and musicians.
Audience: The program is opened to the general public and will attract audience from various parts of Africa.
Objectives
Hold a globally recognised platform via our online model, televised show and our monthly platform attracting audience from various parts of Africa and the world at large.
Provide a mentoring platform to coach and train start-up organisations
Provide our audience with direct contact to Role models and mentors
Spread the impact African's are making
Organisers
Role Model Africa is an initiative by Invents, a mentoring organization that focuses on raising young people as Leaders and Entrepreneurs before they turn 25.
For over 7 years, Invents have been consistent in using personal Leadership models and projects to reach out to millions of young people. Our flagship programs include: Purple Experience, She Magnate Project and Ideas Pulpit.
Our events have attracted remarkable personalities such as Bishop N.A. Tackie-Yarboi ; Founder and Presiding Bishop of VBCI, Dr. Yaw Perbi ; Global C.E.O. of the HuD Group , Dr. Mrs. Ellen Hagan; Founder and C.E.O. of L'aine Services, and Mrs. Comfort Ocran; Co-Founder of Legacy & Legacy
Contact:
0203433177, 0203338572