Your Words Are Not Enough Mr President, Tomorrow Is Now!!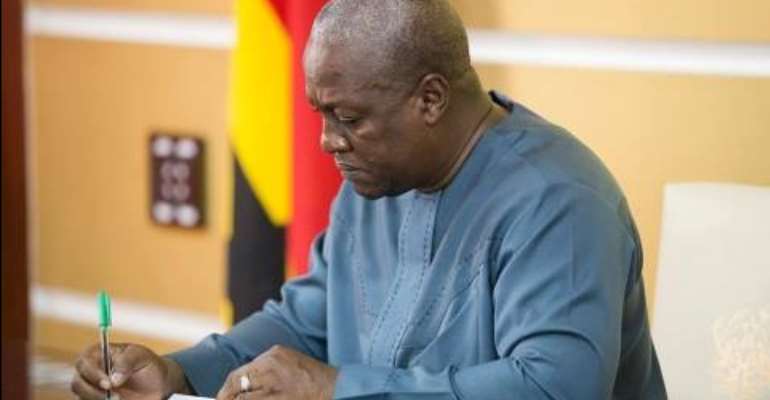 Before you read this, please take off your 'POLITICAL GOGGLES' because am not wearing mine. If I heard you right Mr President and i quote ``we shouldn't be like the vulture that promises to build it house every each other day".
You said this after the flood and fire incident that has left more than 100 people dead and still counting. This statement of yours would have sounded true if it were someone else responsibility to make sure these floods don't occur in the first place.
You clearly diagnosed the problem such as people building without permits, improper disposing ethics and other negative human activities of which i agree with you perfectly....But why should this happen when we have laws, policies and other regulations to check all these ill manners?
I know this is not the first time the nation's capital is experiencing this undeserved catastrophe. Again i know this is not the first time a President is being overwhelmed by this routine flooding incident in Accra. And again i know that Ghanaians attitude has a major role to play in this annually tradition (flooding) in Accra.
This is no time for blame games, it is time for action, i mean a decisive and a strategic one that will put an end to this problem once and for all. Ghanaians are waiting to see a clear road map that goes to eliminate this avoidable threat that takes life, render people homeless, loose jobs and leaves majority spending productive hours in sick beds.
If there were anything like a functional National development policy that overlooks the political ambition of each Government that comes to power, like i believe this wouldn't be a problem to deal with today.
So Mr President whiles we have no ``FUNCTIONAL'' long term National development plan to curb this menace, one is immediately needed by the nation's capital because Accra as a capital deserves better.
You may be also right when you said Accra by virtue of its geographical location is prone to flooding. But does that mean they will have to live with it forever? You will equally agree to a NO answer.
As a preventive health worker, i hate to see the number of cholera spike each and every year in the nation's capital. I hate to see people loose their lives through avoidable incidents like this.
My humble words to the President is; TOMORROW IS NOW. Who ever is responsible should be made to face the full consequences for this gross negligence. For how long are people going to be allowed to build at where they are not supposed to? For how long are people going to be allowed to dispose refuse at where they are not supposed to? And for how long are we as a country going to live without functional laws to forcibly regulate safety measures at our work places and living areas?
We have come to far as a nation and this is unacceptable. No amount of words can reverse what has been lost so all we call for as a nation is action to end this and not words
God bless Ghana
ISAAC ACKAH
0240371009