May Day: Promoting Decent Work And Reducing Inequality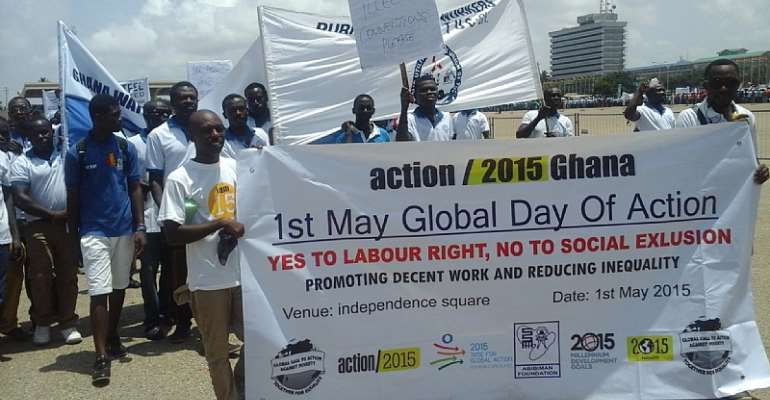 As people citizens and workers of Ghana celebrate May Day, United Nations member states are in discussions that could prove to be the most important negotiations for citizens in history, according to the global citizens' movement action/2015.
The month of May was chosen for this mass display of People Power because governments are right now negotiating the texts that will be adopted at the Post-2015 Sustainable Development Summit in September and the COP21 climate negotiations in December.
The action/2015 May Month of Action will feature 12 Global Action Days - organized on themes of accountability, African unity, ageism, child health, citizen participation, climate justice, decent work, faith and climate change, gender equality and hunger and nutrition - as well as hundreds of events including marches, concerts, flash mobs, workshops and debates throughout the month.
Abibimman Foundation/GCAP Ghana will join several thousands of trade unions workers on 1st MAY, 2015 at the independent square to draw government attention on recent labour and economic policies of government that have brought more hardships for the Ghanaian workers especially with the recent workers' wages are only to see a 13% increase for the three-year period of the IMF bailout.
This would, no doubt, make the Ghanaian worker poorer and poorer, as the cost of living gets ever higher than his or her take-home pay. Prior to this development, government, beginning this year, scrapped the 10% Cost of Living Allowance, despite the rising cost of living. Industries and small businesses are folding up because of 'dumsor dumsor' which has resulted in the loss of thousands of jobs.
The present system of governance has made labourer and working class vulnerable and become insensitive, though the wealth of the nation was built on the theft of their land and from their work in the farms, mines and factories. The time has come for politicians to talk to the labourer and to talk to the working class openly and honestly to ensure the enhancement of the dignity of the Ghanaian labour force.
The structural transformation of the Ghanaian economy, with the goal of industrialising and adding value to our primary products, and an uncompromising adherence to value for money in the use of the public purse will be the means by which to expand economic activity and public infrastructure to create the necessary numbers of high-paying jobs that will enhance the living standards of the mass of Ghanaians so that we can, together, ensure that there is a place for everyone in this society and in this state.
On the occasion of May Day, we demand government of Ghana to take the following actions for ensuring the rights and dignity of citizens:
An end to poverty in all its forms and development and economic systems that benefit everyone - not only the few
An end to the soaring levels of inequalities and discrimination which destroy the lives of many, especially women and girls
Ensuring that everyone's fundamental rights are met and realised, including access to nutritious food, clean water, essential services and decent employment
An accelerated transition to 100% renewable energy so that a safe climate and sustainable economy - with all its benefits for people and planet - is possible
A world where everyone can participate and hold their leaders accountable.
We hope Government will take the necessary steps to address the above mentions issues together we can build a nation that we can leave to our children and their children with pride and dignity. The wellbeing of the Ghanaian workforce and the future of their children are our priorities.
Action/2015 envisions a transformational shift that ensures gender justice and enables everyone to live their lives in dignity, free from hunger and from the fear of violence, oppression, discrimination or injustice in a way that protects the planetary systems required for survival of life on earth. More information at www.action2015.org, facebook.com/action2015 and @action2015.
ABOUT GCAP
The Global Call to Action against Poverty (GCAP) is a Southern-led alliance of civil society organizations and people's movements that challenges the structures and institutions that perpetuate poverty and inequalities. More information at www.whiteband.org .
We will raise our voice today for the generations of tomorrow and demand"Action"
For more information about ACTION/2015. Please visit www.action2015.or.org. www.abibimmanfoundation.org .
Kenneth Nana Amoateng
Abibiman Foundation. – 0244023651