Mahama Appoints New CEO For MIDA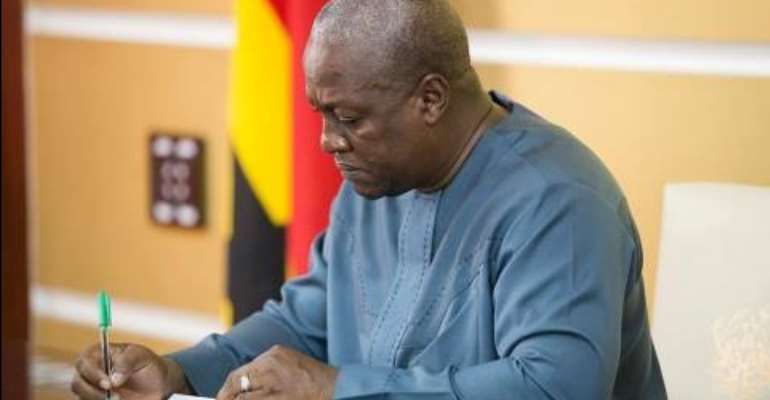 President John Dramani Mahama has appointed Ing. Owura Kwaku Sarfo as the new Chief Executive Officer (CEO) of the Millennium Development Authority (MIDA).
According to a press release signed by Board Chairman of MIDA, Professor Samuel Sefa-Dedeh, the new appointment is 'in accordance with the advice of the governing Board of the Millennium Development Authority, given in consultation with the Public Services Commission.'
'He will oversee the implementation of Ghana's second Compact with the Millennium Challenge Corporation of the USA. The US$498 million Compact is focused on the strengthening the power sector.'
lng. Owura Kwaku Sarfo, aged 56 years, graduated with a Bachelor of Science Degree in Civil Engineering from the Kwame Nkrumah University of Science and Technology in 1981.
He obtained a Master of Public Administration Degree from Harvard University in the United States of America in 2002.
He is a member of the Ghana Institute of Engineers.
Ing. Owura Kwaku Sarfo started work at the Volta River Authority (VRA) and served in various capacities such as Assistant Civil Engineer, Civil Engineer, Senior Civil Engineer, Principal Civil Engineer (1982 — 1994); Projects Manager in charge of Engineering Design and Construction (1994 — 2002); Director of Real Estates (2002 — 2005); Director of Procurement (2005 — 2008).
He was the Chief Executive Officer of the Volta River Authority from 2008 to 2010.
Ing. 0. K. Sarfo was the Managing Director of the ROFAS & BRAGA Limited from 2010 to 2011.
He has been the Managing Director of the Accra Compost and Recycling Plant Limited since 2011.
He has attended several courses, conferences, seminars and workshops.
- Citifmonline