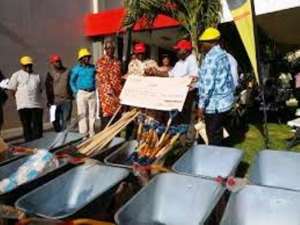 As part of their contribution in ensuring a clean environment, Indigenous liquor giant, Kasapreko Company Limited has presented a cheque of GHȼ 30,000 to the Ministry of Local Government and Rural Development in support of the National Sanitation Day campaign.
The company also donated shovels, gloves, rakes, wheel barrows and nose masks towards the exercise held every first Saturday in every month.
Presenting the items, Managing Director of Kasapreko, Dr. Kwabena Adjei said the gesture is part of their corporate social responsibility to ensure the community within which they operate is clean and safe.
He indicated that the company attaches great important in keeping their environment clean, hence the decision to support such a laudable initiative by government.
"Kasapreko has over the years been promoting the re-use of waste materials such as poly bags, cartons, wood from old pallets and bottles by selling them to individuals who re-use them for other productive uses" he added.
Dr. Kwabena Adjei also revealed the company has commenced work on a € 500,000 waste water treatment project to treat waste water from the factory before discharging it into the drains.
"The company can now boast of a brand new state-of -the art packaging lines with the combined capacity of 70,000 bottles per hour from Krones in Germany" he stated.
Dr. Adjei urged Ghanaians to support government in its quest to rid the country out of filth by keeping their surroundings clean.
For his part, the Minister for Local Government and Rural Development, Julius Debrah commended Kasapreko for the gesture.
He said the campaign is to promote the change of attitude of the citizenry in the areas of sanitation, environmental health and the disposal of garbage.
Julius Debrah bemoaned the appalling record of Ghanaian's in the recent United Nations Sanitation report.
He underscored the need for all stakeholders to get involved to make the National Sanitation Day a success.