Rebels kill two soldiers in Mali: government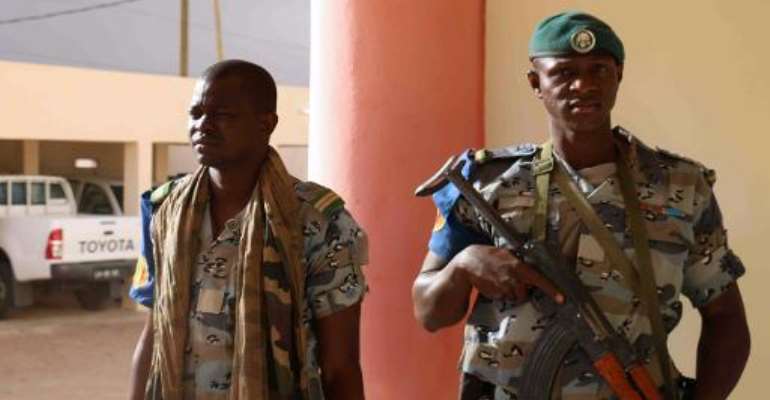 Bamako (AFP) - Two Malian soldiers have been killed and four wounded by an improvised bomb in the conflict-torn west African nation's restive northern desert, the government said.
The troops died on Sunday morning when they were blown up by the device in the town of Almoustrate, about 120 kilometres (75 miles) north of Gao, the largest city in the north.
"One of the positions held by armed forces in Almoustrate was the target of an attack by an explosive device placed by unidentified individuals. The toll is two dead, four wounded," a government statement issued late Sunday said.
The government described the attack as a "terrorist act... contrary to the commitments made by armed groups" in peace accords signed with several separatist militias in May and July.
The United Nations mission in the country denounced "the cowardly and indiscriminate attack on Malian armed forces working for the return of stability in Mali".
The fighting is the latest in a string of rebel attacks in the north to have shattered an uneasy calm since the rebels agreed to a ceasefire and entered into talks with the government in Algeria.
A French commando was killed in violent clashes with hardline Islamists in the Tigharghar mountain range last week, as part of an operation aimed at stemming the return of jihadists in the north.
Mali descended into crisis in January 2012, when the separatist National Movement for the Liberation of Azawad launched the latest in a string of Tuareg insurgencies in the north.
A subsequent coup in Bamako led to chaos, and militants linked to Al-Qaeda overpowered the Tuareg to seize control of Mali's northern half.
A French-led military operation launched in January 2013 ousted the extremists, but sporadic attacks have continued and the Tuaregs' demand for autonomy has not been resolved.
Nine UN soldiers from Niger were killed in the Gao district on October 3 by armed men on motorbikes in an attack claimed by a jihadist with links to Movement for Oneness and Jihad in West Africa (MUJAO).