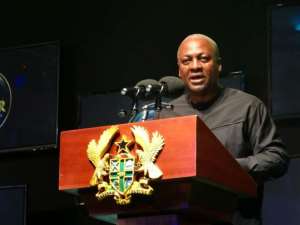 His Excellency John Dramani Mahama, President of the Republic of Ghana has categorically rubbished reports that the country will replace Morocco as hosts of the 2015 Africa Cup of Nations, insisting that government have not made any such decision.
'We haven't taken a decision to host. I am President of Ghana , I chair cabinet. No such decision has been taken by cabinet advising me to accept to host," Mr. Mahama has strongly stated.
Morocco are due to host the continental championship scheduled for January 17 to February 8 next year but are reportedly contemplating withdrawing as hosts due to fears over the Ebola pandemic which has reportedly killed over four thousand Africans.
Morocco previously also requested for a postponement of the tournament but CAF, the African governing body has strongly stated that the dates will not change and only last week wrote to Ghana and South Africa notifying the countries to be on standby should Morocco eventually decide to pull out hosting the tournament.
Mahana Ayariga, Ghana's Sports Minister, fanned rumours the country will accept to host when he reportedly said the country had the means to take over as hosts.
In reaction, a host of civil society organisations including the Ghana Medical Association have issued statements against any move to host the competition in the face of the prevailing Ebola situation. '
A group of Ghanaians have even come together to launch a 'Say No To Afcon 2015 in Ghana' campaign on social media.
But the Ghanaian chief has assured his countrymen during an interaction in the United that all is under control and a decision will be taken in the best interest of the nation, however confirming the bid for the 2017 tournament.
"I want to tell you that we will take the best interest of Ghanaians at heart," President Mahama affirmed.
"As President, I don't want to see Ebola spread to my country and so if Morocco express concern that it is one of the concerns for which they want a postponement, we are going to look at that carefully before we host AFCON or not. But certainly 2017 we are putting in a bid for it," Mr. Mahama explained. Follow @thedonplato