Forwin, UniBank Facilitate Home Appliance Purchase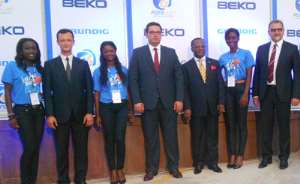 Felix Nyarko – Pong of UniBank, Serkan Biber with Ghassan Yared, CEO Forwin GH. 
Forwin Ghana Limited, a marketing and distribution company in partnership with uniBank, has rolled out a new credit scheme to enable consumers acquire a range of Beko home appliances at interest-free rates.
Employees in the formal and informal sector could purchase appliances, which include gas cookers, refrigerators, LED televisions, washing machines from Beko appliance showrooms and make payment over a 12-month period.
Application for the appliances, which also come with 12 month warranty, is expected to be processed within 48 hours, and it is opened to account and non-account holders of UniBank.
Richard Amanpene-Sekyere, Head of SME Credit and Consumer Finance, told BUSINESS GUIDE in Accra that individuals who earn above GH¢200 a month, as well as persons who operate small-scale business with reliable source of income are eligible.
He reiterated that the move is to cushion individuals who want to acquire home appliances.
'For us, we believe in quality services that can give customers value for their money. It is difficult for people to raise money to buy consumables, so we are pre-financing this to make it easy for people to have access to such equipment,' he said.
Explaining the 'no-interest' deal further, he said prices of the items displayed in Beko showrooms would be disbursed as loans to applicants in which payment would be spread over a one year.
Serkan Biber, West African Regional Director of Beko, noted that it was appropriate to offer support to the working class after operating and conducting research in the country for over two years.
He hinted of plans to operate on a large scale in Ghana.
Noting that there were challenges for businesses operating in the recent economic environment, he stated that government has the capacity to address the challenges.
He stressed the need for government to reduce its recurrent expenditure and continue to create conducive atmosphere for businesses.
BY Ernest Nutsugah  
([email protected])