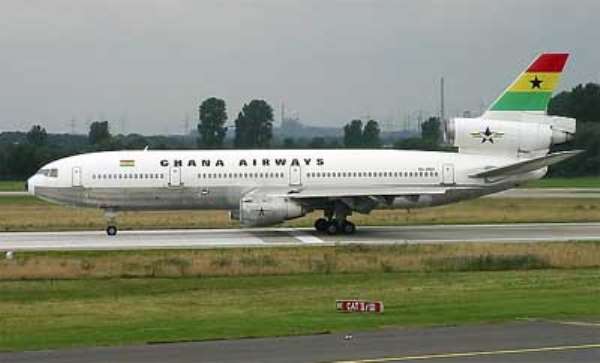 Two companies have been shortlisted for a possible joint venture with the state to take over the ownership and management of the national carrier, Ghana Airways. The two are the Kenya Airways-KLM-Fidelity consortium and the Ghana International Airlines. owned by an American investor. The President, Mr John Agyekum Kufuor, who made this known when reacting to questions by a section of the British business community at a breakfast meeting during his recent visit to London, said the final decision on which of the two shortlisted companies would win the bid would be taken in some months' time. The President said the offers made by the shortlisted companies were very attractive.He said the government would become a minority shareholder in the take-over arrangement to reduce the political content in the management of the affairs of the national airline. President Kufuor said Ghana Airways, which has a lot of potential, was, unfortunately, saddled with a number of problems. He said the airline, which has only three over-aged long distance aircraft, had a workforce of over 2,000. Ghana Airways was established in July 1958 as a national carrier and its operational mode was changed in 1971 and 1995 into a limited liability company, with profit as its objective.
Recently, the airline ran into financial and management difficulties, leading to heavy operational losses. Information available indicates that as of August, 2003, the company's debt amounted to about $174 million.
At the inauguration of the Ghana Aerospace and Aeronautics Society at the Kotoka International Airport in March this year, Dr Richard Anane, the Minister of Roads and Transport, said four companies had submitted evaluated proposals to the ministry for consideration. He mentioned the four companies as the Kenya Airways/KLM/Fidelity consortium, Ghana International Airlines, Ghana Air Partners and Solution Incorporated.
He indicated that the companies had been requested to submit business plans, which would form the basis of evaluation for selecting the appropriate partner who would meet the government's expectation of engaging a strategic investor who was ready to invest and be part of the management of Ghana Airways.
Meanwhile, the President returned from London on Sunday. He was met on arrival at the Kotoka International Airport(KIA) by the Vice-President, Alhaji Aliu Mahama, ministers of state and service commanders.
While in London, the President held discussions with British Premier Tony Blair on a number of bilateral issues. President Kufuor also attended the inauguration of President Thabo Mbeki of South Africa in Pretoria.