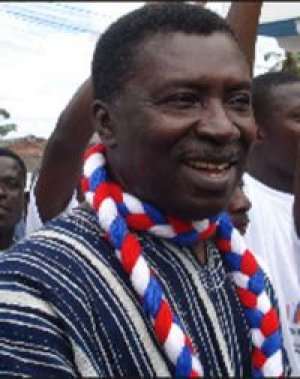 NPP delegates are less than 12 months away to settle for a flag-bearer who will wrestle power with the incumbent President John Mahama, the NDC unopposed candidate, for 2016 general election. NPP is repositioning itself to avoid going into opposition this time because failure to do so will be detrimental and might sink the main opposition party to its doldrums or possibly break the party apart.
The party is at the crossroad of repeating mistakes they made in the past. Pollsters envision the dichotomy between popularity and electorability but such advices won't change the minds of the diehard delegates.
Boutros Boutros-Ghali once said "Only stupid people don't change their minds" Politics needs psychological thinking but many still rely too heavily inwardly and along tribal lines when making choice. Whatever the situation, the choice of the flag-bearer will either makes or mars the chance for NPP. To choose leaders, the party needs direct and confirmed knowledge of the psychology of real political judgments.
The delegates will elect their flag-bearer but their choice does not necessarily reflect on electorate choice. To talk of becoming a president because of the delegates' choices is to use extremely loose language. Viewing in terms of what actually takes place at the electorate, the voters' choice is usually the man who succeeded in winning through tribal alliance not sectional alliance.
The flag-bearer is selected in the first instance by the party's rank and file by popular enthusiasm, however, there is no guarantee that political condition which made election possible will hold together long enough to carry through to general consensus. Flag-bearer may accomplish this in part by the general prestige he enjoys in his party, this is, however a transitory influence and not likely to maintain the lead in general election because voters from heterogeneous group of individuals are responsible.
It is ironic that people's political despair could actually wake up their rational attention and perception of candidature. But that is a tough challenge facing candidates and their supporters. Evidence is clear that public opinion nowadays is a debacle; majority of citizens feel no leader is a messiah who has any immediate cure or could conjure manna to fall from the heavens. They still believe no matter who becomes the president they all fail to govern right. That negative evaluation and resulting fear is not a fantasy any pollster can envisage.
The issue of changing NPP party flag-bearship must become an official agenda looking at how distasteful the delegates felt when they voted out the party's main executives. April 12 executive election was an acid test to prove that Nana Addo faction has no supremacy over the elephant fraternity. No one needs to be told that the then leadership and policy had failed. New faces and if possible new generation should now be ready to take the mantle from the old man. The trend of old faces continuing with the leadership does not help the rise of new talents. There are clear indication that certain de-facto leaders have kept their grip on the party and any attempt to get their hands off can dismantle the party, but nobody has the right to break a party.
In 333 BC when King Alexander the Great wanted to besiege Tyre, King Darius second offer to King Alexander was a huge sum of money and his daughter for marriage, but King Alexander refused. King Alexander´s closest friend, Parmenion said to him "If I were Alexander I would accept it". "If I were Nana, I would bow out of politics to retain my statesmanship" Nana Addo is a truly statesman and I will equate him to Lord Kinnock, former Labour leader or Senator Bob Dole and Senator John McCain both Republican presidential candidates.
These politicians were not destined to be president and it didn't matter how many attempts they made. Nana Addo's weakness as a candidate, however, goes beyond floating voters. Nana Addo's background has lots of flaws which most people are not well convinced although they contain it. His uncle, Dr J.B. Danquah, and his father, Mr Edward Akufo-Addo, were once Ghana saboteurs. They sabotaged any good plans Dr Nkrumah had for Ghana, to extend of sending delegates to the Queen of England to halt Ghana's independence.
Nana Addo according recent Wikipedia update is believed to have completed his secondary school in Ghana but did his O-Level and A-Level in UK. It is not clear what O'Reilly Secondary School awarded its students. It is unusual for one to complete his A-Level in UK and come back to teach in Ghana, finish Legon and after that go back to be enrolled at Middle Temple Inn. Nana is believed to have enrolled at Oxford University and till now Nana Addo hasn't come out clean about his Oxford ordeal. One funny thing is that, since 1852 no Inn in England and Wales offer legal education to would-be lawyers/barristers. Legal students get their training from legal training schools (Bar School) but they must choose any of the four Inns of Court who will confer them as barrister after their legal training (1 year full-time or 2 years part-time). Till date, England and Wales have only 12 Bar Schools. There is no records of Bar Schools Nana had is legal training from.
The absence of any compelling personal story and a clear background that is uniquely unfitted for true are also major problems for Nana Addo. There is nothing in Nana Addo's past to suggest triumph over hardship or personal crisis. Instead, he is born into privilege home and then made even more money through legacy. There is nothing inherently wrong with not having a successful career, but it makes Nana Addo a less appealing because to others he is arrogant and egotistic. Nana Addo's penchant for, phrasing things badly, prickliness while campaigning, and difficulty communicating compassion or concern could end up being very damaging to him in what is shaping up to be the last straw that broke the camel´s back.
You could not win floating votes when you still defend `All-Die-Be-Die` mantra and use phrases like "Yen akanfo" and still bring your campaign to the Voltarians or Northerners. They would be imbecilic if they vote for NPP. Nana Addo's weakness as a candidate was not entirely unforeseeable. He didn´t initiate any project in his own hometown when he was MP for three terms. In 2008 thanks to the Ashantis, the Brongs and The Easterners, he was able to minimize his lost to 40,000 votes and in 2012 the gap widened to 400,000. If these statistics are anything to go by, the third gap will read million. What is the evidence that Ghanaian would want an old man to be at the helms of their affair? The reasons are simple and straightforward.
Nana will be almost 73 years (4 months less) during the next general election. This could not be the case of America when Ronald Reagan took an office at the age of 69. This is the man who pleaded with ex-President Rawlings because he wanted to be a president at any means necessary, surrounded himself with Akyem mafias who control NPP as pawn and refuses to condemn or rebukes his sergeants when they make unnecessarily utterances. This is the man who held Ghana at a ransom for eight months, although it is crystal clear that winning two regions out of ten could not win him power.
Nana Addo secretly incites certain function of the elephant fraternity. A typical example is recent NPP Ashanti Regional Chairman's warmongering to mobilise the Ashantis to overthrow a legitimate president, John Mahama. Mr Bernard Antwi Boasiako was the only sub-chairman, not even the national Chairman who visited Nana Addo in London. God only knows their plan agenda. Nana Addo incites people like Jake Obetsebi Lamptey and Kwadwo Owusu Afriyie coercing both vowing to roam Nana Addo down the throat as NPP flagbearer even if Nana Addo were in wheelchair. But at the end he betrayed Jake Obetsebi Lamptey as Peter denied Jesus Christ at the Sanhedrin. Nana Addo incites his relatives and buddies called "Akyem Mafias" who would like to have the last say in NPP's decision. Nana Addo has incited NPP-UK to put a slogan "NO-NANA, NO-VOTE". Such slogans are mischievous and insane if not political epithetic. Such slogan can leave an indelible mark on the minds of most Ghanaians and should Nana Addo fails to get the nod to lead NPP, the Elephant is doomed forever.
Why Prof Kwabena Frimpong-Boateng is the right choice?
Politics is not the only place for people who be good leaders but people who can be successful to be great leaders. Such people ought to be respected not only within the party line but by the electorate who must have a profound respect for them. There exist multiple key points which a respectful political leader should develop so as to gain respect from people. Real leader must be decisive and don't change mind as a rule unless it is extremely necessary. They must be assertive, but political assertiveness has nothing to do with aggression. Aggression is closely associated with bullying because bad things stays longer than good in peoples mind.
One thing that comes to mind is how Dr Nkrumah while still in prison received votes from Ghanaians. The reason is that Dr Nkrumah didn't play tribal politics. In 1979 Victor Owusu insulted the Ewes as inward looking, which he paid dear price for it. This clearly tells us that you can´t win the presidency by relying only on the Akans. Deciding which candidate to vote into office is simply a matter of party affiliation for many people. Others, however, cast their votes based on specific characteristics they look for in their candidate of choice. So what are the qualities or characteristics good political leaders should possess? Political commentators have defined it as honesty, compassion, integrity, confidence and flexibility.
Being honest can sometimes be difficult because it makes individuals vulnerable. It reveals who we really are and discloses our mistakes, which gives others the opportunity to criticize or reject openly. Honesty develops character and builds credibility and trust, which are the foundation to evoke confidence and respect from those around you, and in the case of political leaders, team mates and constituents. Compassion is the humane quality of understanding the suffering of others and wanting to do something to alleviate their suffering. While many see compassion as a weakness, true compassion is a characteristic that converts knowledge to wisdom. Good political leaders use compassion to see the needs of those they lead and to determine the course of action that would be of greatest benefit to those involved.
The word integrity is defined as 'the adherence to moral and ethical principles; the soundness of moral character.' It is a synonym for honesty and uprightness, and is a vital characteristic for those in political leadership. Political leaders who possess integrity can be trusted because they never veers from inner values, even when it might benefit them to do so. A leader must have the trust of followers. This requires the highest standard of integrity. Having confidence in a political leaders is similar to having faith or belief that they will act in a right, proper, or effective way.
A good political leader needs to be both confident as well as in their ability to lead. Leaders who possess this quality inspire others, drawing on a level of trust which sparks the motivation to get others on board and get the job done. Flexibility for a political leader is about understanding the give-and-take aspects of politics, and the ability to find the common ground. Good politicians listen carefully to all sides, to not only hear their arguments but to especially learn what it will take on behalf of all parties involved to reach a consensus. This characteristic allows political leaders to recognize setbacks and criticism, to learn from them and move forward.
Is it out of intimidation or cowardice that prevented potential candidates like Alan Kwadwo Kyerematen, Prof Kwabena Frimpong-Boateng, Dr Kofi Konadu Apraku, Joe Ghartey etc not to throw out their challenges but waited until Nana Addo boldly declared his stand? I believe Nana Addo is a bad cheque to cash and I believe NPP should rally their support towards Prof Kwabena Frimpong-Boateng to pair with Alan Kyerematen if they want to cash their cheque.
Voters have the right to study the morals of the candidates and are never intimidated by fake promises. Therefore morals can replace politics, with voters leaning onto the simpler question of virtue rather than the harder question of policy. Character is a legitimate political issue and people have studied these problems before they are elected, not afterward. Leaders' character does not mean simple morals, ones morals for political power affecting millions of voters.
The challenge is to find out the personal qualities which will shape average Ghanaians not like centre-right government who practice capitalism. Looking at the potential candidates we should check out what the life experience of the candidates and it tells us about their probable character to govern. The basic personality comes down to two essential variables: energy and emotion. Nana Addo is too old and must retire or pave the way for a potential candidate because Ghana does not want to see the situation of Prof Evans Atta Mills.
For a heart surgeon to selfishlessly abandon his lucrative career in Germany to serve his people, he has demonstrated to be a good leader. A good leader is one who has been able to move above and beyond any egoistic and primitive need for power, attention, or establishing his personal agendas and works with the intention of good-for-all. His focus is specific, achievable, and above all have measurable goals and demands outcomes. He encourages people to be accountable to their society. He does not believe in politically correct but ethically right. I believe he will not make idealistic promises but realistic ones, because he is not a selfish person.
Prof Kwabena Frimpong-Boateng once described Ghana's economy as 'Adam and Eve'which needed pragmatic changes. I would rather say, NPP itself needs pragmatic change since the two founders, B. J Da Rocha and Stephen Kraku, were not power conscious. According to Prof. Frimpong-Boateng the delegate do not know what most of them stood for and are only one-sided if even that won't do the party any good. By now people might have known that incumbency or a grey hair is not a criteria to dynamic leadership. We all know how a US junior senator came fore to beat the old folks to be the president. These are people Ghana want, like Dr Kwame Nkrumah whose vision for Ghana is second to none.
NPP great forerunners like Mr Kwame Pianim, Nana Ohene Ntow and Harona Esseku have firm believe that Prof Kwabena Frimpong-Boateng led-flagbearership will be the best choice to challenge NDC.
Lewis Kwame Addo
Amsterdam, The Netherlands
[email protected]