Major international effort seen as crucial to end S.Sudan carnage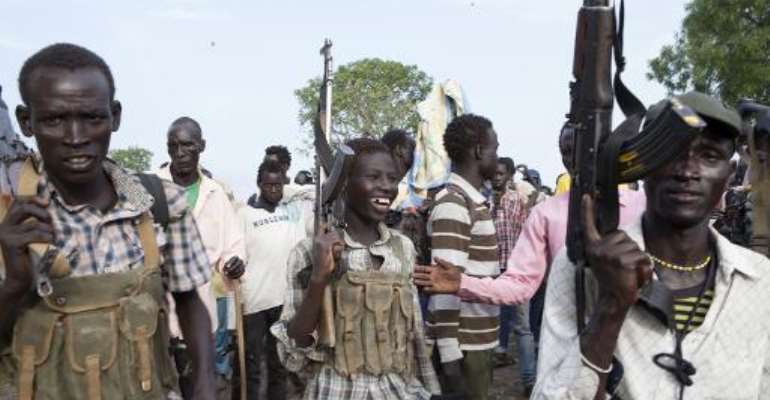 Nairobi (AFP) - As ethnic massacres in South Sudan spiral out of control and politicians lose their grip on rampaging militias, only a concerted international effort stands any chance of ending the four-month-old civil war, analysts say.
The past week has been described by a senior UN official as the "most bleak" in South Sudan's short history, with pro-government gunmen storming a UN base in an attempt to kill thousands of terrified civilians and rebels accused of conducting massacres in churches, mosques and hospitals.
According to the UN's top official in the war-torn nation, Toby Lanzer, the country has now descended into "a cycle of revenge" -- barely three years after the fanfare that accompanied its independence from Khartoum.
For John Prendergast, co-founder of the anti-genocide Enough Project, only a "high profile initiative of the international community" including the United States -- which was instrumental in helping South Sudan separate from Khartoum -- stands any chance of preventing a protracted conflict and more atrocities.
"If it's a low-key, under-the-radar begging operation, these parties are just going to laugh at it," he said.
"If you have a very serious, high level engagement that has senior representation in key countries with some level of past and present influence, that brings to bear that kind of pressure, then you've got a chance," said Prendergast, a former Africa director for the National Security Council during Bill Clinton's presidency.
- Going after the leaders -
The war broke out on December 15 following a clash within the presidential guard and rapidly escalated as soldiers took sides with either President Salva Kiir or his sacked deputy, Riek Machar.
The conflict quickly took on an ethnic dimension, with Kiir drawing support from the ethnic Dinka community and Machar from his Nuer tribe. Thousands and possibly tens of thousands of people have died while over a million have been forced from their homes.
To further complicate matters on the ground, the notorious ethnic Nuer "White army" has joined the fray on the side of Machar's patchwork rebel force, neighbouring Uganda is backing Kiir while rival militias from neighbouring Sudan have reportedly been joining in.
Both the government and rebel forces have been accused of committing war crimes, including massacres, rape and child soldier recruitment, and Prendergast said concrete action on this could also be used as a way to halt the fighting.
"When you actually start freezing the assets, seizing the cars and the houses in Kenya and Ethiopia that are owned by most of these senior officials in government and the rebellion, when you start sending their kids home from schools... then it starts to get their attention," he said.
"We have both sides committing atrocities, so it's easy to say we're going to go after individuals on both sides. There's some level of even-handedness, with very specific targeted sanctions, very specific asset freezes."
Casie Copeland of the International Crisis Group, an international conflict resolution think-tank, said the South Sudanese currently have no intent to stop fighting -- even though they are paying lip service to peace talks being held in Ethiopia and signed a ceasefire in January.
"The two warring parties right now prefer to seek a solution on the battlefield rather than through peace talks," she said.
"Peace talks in Addis produced a ceasefire which was almost immediately violated, and right now we are seeing little commitment from either side to a negotiated solution. There needs to be concerted political action."
- Chinese clout -
Ferdinand von Habsburg-Lothringen, a Swiss citizen working in South Sudan for 16 years and a former UN and government advisor, said the crisis was now as bad as the worst days of the decades-long civil war that preceded independence.
The impact of fighting has been "catastrophic", he said, warning that "the future of the world's newest country is as insecure as it has ever been". Aid agencies say more than a million people are at risk of famine.
"Humanitarian aid will be the sticking plaster over South Sudan's gaping wounds," he said, saying the country had been essentially left "unattended by a divisive and ineffective international community."
South Sudan's oil wealth is now being bitterly fought over by the government and rebels, but could provide a key to speed up any diplomatic initiative by drawing in major investor and big power China.
"For many Western countries, it's not a big enough revenue generator to be a factor, but for some of the eastern countries like China, India and Malaysia, given their deep involvement in the oil sector over the years, particularly China, oil is a major factor," said Prendergast.
"This is an opportunity for the United States and some other countries to deepen their engagement with Beijing to jointly work together to find solutions to bring leverage on the parties to find solutions to the conflict," he said.